WyoLink Success Story - October 2011 Interchange
Date: 10/04/2011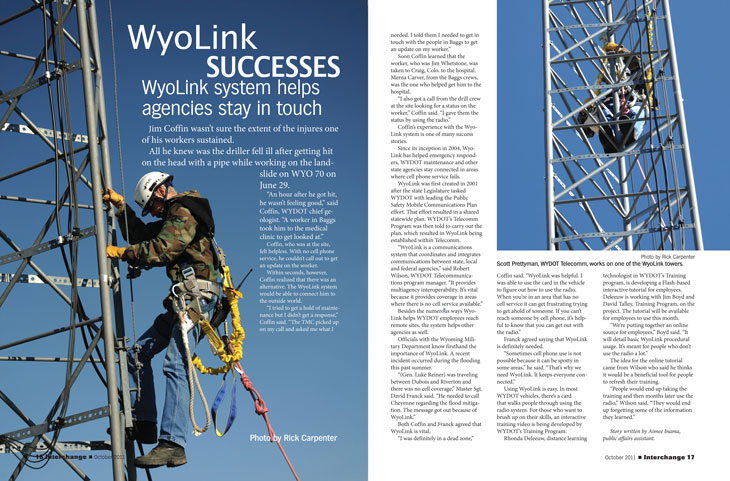 Editor's note: You can also view a PDF of the article that ran in the Interchange.
Jim Coffin wasn't sure the extent of the injuries one of his workers sustained. All he knew was the driller fell ill after getting hit on the head with a pipe while working on the landslide on WYO 70 on June 29. "An hour after he got hit, he wasn't feeling good," said Coffin, WYDOT chief geologist. "A worker in Baggs took him to the medical clinic to get looked at."
Coffin, who was at the site, felt helpless. With no cell phone service, he couldn't call out to get an update on the worker. Within seconds, however, Coffin realized that there was an alternative. The WyoLink system would be able to connect him to the outside world.
"I tried to get a hold of maintenance but I didn't get a response," Coffin said. "The TMC picked up on my call and asked me what I needed. I told them I needed to get in touch with the people in Baggs to get an update on my worker." Soon Coffin learned that the worker, who was Jim Whetstone, was taken to Craig, Colo. to the hospital. Merna Carver, from the Baggs crews, was the one who helped get him to the hospital.
"I also got a call from the drill crew at the site looking for a status on the worker," Coffin said. "I gave them the status by using the radio." Coffin's experience with the WyoLink system is one of many success stories. Since its inception in 2004, WyoLink has helped emergency responders, WYDOT maintenance and other state agencies stay connected in areas where cell phone service fails.
WyoLink was first created in 2001 after the state Legislature tasked WYDOT with leading the Public Safety Mobile Communications Plan effort. That effort resulted in a shared statewide plan. WYDOT's Telecomm Program was then told to carry out the plan, which resulted in WyoLink being established within Telecomm.
"WyoLink is a communications system that coordinates and integrates communications between state, local and federal agencies," said Robert Wilson, WYDOT Telecommunications program manager. "It provides multiagency interoperability. It's vital because it provides coverage in areas where there is no cell service available." Besides the numerous ways WyoLink helps WYDOT employees reach remote sites, the system helps other agencies as well. Officials with the Wyoming Military Department know firsthand the importance of WyoLink. A recent incident occurred during the flooding this past summer.
"(Gen. Luke Reiner) was traveling between Dubois and Riverton and there was no cell coverage," Master Sgt. David Franck said. "He needed to call Cheyenne regarding the flood mitigation. The message got out because of WyoLink." Both Coffin and Franck agreed that WyoLink is vital.
"I was definitely in a dead zone," Coffin said. "WyoLink was helpful. I was able to use the card in the vehicle to figure out how to use the radio. When you're in an area that has no cell service it can get frustrating trying to get ahold of someone. If you can't reach someone by cell phone, it's helpful to know that you can get out with the radio."
Franck agreed saying that WyoLink is definitely needed. "Sometimes cell phone use is not possible because it can be spotty in some areas," he said. "That's why we need WyoLink. It keeps everyone connected." Using WyoLink is easy. In most WYDOT vehicles, there's a card that walks people through using the radio system. For those who want to brush up on their skills, an interactive training video is being developed by WYDOT's Training Program.
Rhonda Deleeuw, distance learning technologist in WYDOT's Training program, is developing a Flash-based interactive tutorial for employees. Deleeuw is working with Jim Boyd and David Talley, Training Program, on the project. The tutorial will be available for employees to use this month.
"We're putting together an online source for employees," Boyd said. "It will detail basic WyoLink procedural usage. It's meant for people who don't use the radio a lot." The idea for the online tutorial came from Wilson who said he thinks it would be a beneficial tool for people to refresh their training. "People would end up taking the training and then months later use the radio," Wilson said. "They would end up forgetting some of the information they learned."
Story written by Aimee Inama, public affairs assistant.