Wyoming Aeronautics Commission Air Show and Fly-In Program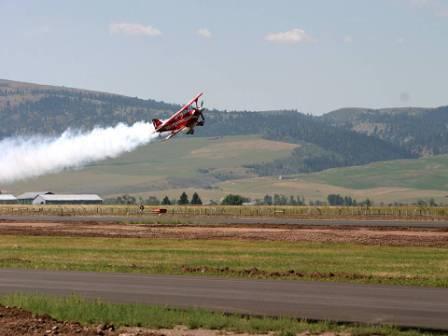 The Wyoming Aeronautics Commission recognizes that there is a great need to promote aviation throughout the state of Wyoming by increasing the public's awareness of aviation by exposing them to activities at local airports, recruiting and inspiring interest in becoming a pilot, encouraging the pursuit of aviation and airspace educational efforts and influencing further economic development at all of Wyoming's airports.
To act in partnership with communities throughout the state and local airports, the Wyoming Aeronautics Commission has established a financial assistance program to assist with and encourage activities which promote interest in the community airports.
The Commission, via the Wyoming Department of Transportation, Aeronautics Division, provides the following financial assistance in the form of direct grants for facilitation of airport and aviation promotional events which meet all or part of the following criteria:
Promote interest and enthusiasm for aviation;
Provides opportunity for aviation education events or programs;
Encourages further use and/or development of the airports;
Enables opportunity for the public to further explore and understand the economic and social benefits of the local facility;
Partners with local air service providers to generate expanded or maintained customer levels at airports;
Promotes aviation and airport safety to aviators and the general public.