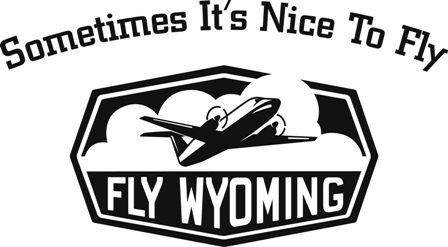 "Fly Wyoming" Campaign
In 2005, the state won a federal United States Department of Transportation (U.S. DOT) grant received through the Small Community Air Service Development Program (SCASD). This enabled the state to conduct a statewide consortium air service marketing campaign, Fly Wyoming. It was launched through a press conference on May 8, 2007.
The statewide portion of the campaign was completed in 2008; however, individual airports are utilizing the brand and logo in their local efforts. The campaign targeted the residents of Wyoming and beyond through print, billboards, TV, radio and Internet advertising.
The results of the campaign were tracked by CCT Advertising through a statewide survey. The survey suggested that overall consumer awareness of the state's 10 airports increased to a measurable degree. Each of the 10 commercial airports participated in the advertising and marketing campaign.
To some degree, most airports will continue to communicate and advertise the message created. The Wyoming Aeronautics Commission was proud to have completed such a campaign for the state through the funding provided from the U.S. DOT Small Community Air Service Development grant.
"Fly Wyoming" TV Ads