In 2014, Wyoming commercial airports served a record 1.1 million passengers. However, that success has not been shared by all of Wyoming's commercial airports. Regulatory environments, dwindling pilot supply, operational challenges, aging aircraft and volatile fuels costs have put small communities across the U.S. at significant risk of losing air service.
Sheridan County Airport lost all commercial service on April 1st, 2015 but was able to restore service with assistance from the ASEP
Cheyenne, Riverton and Sheridan all fell below the 10,000 enplanement threshold for 2014, a requirement to qualify for $1 million in Federal Airport Improvement Funding (AIP)
Projected airline capacity for Wyoming has continued a downward trend
Industry changes continue to make it difficult to retain, attract and enhance air service
About half of all Wyoming resident who fly, opt for out of state airports
Below: Airline capacity continues to drop in Wyoming, *2017 is forecasted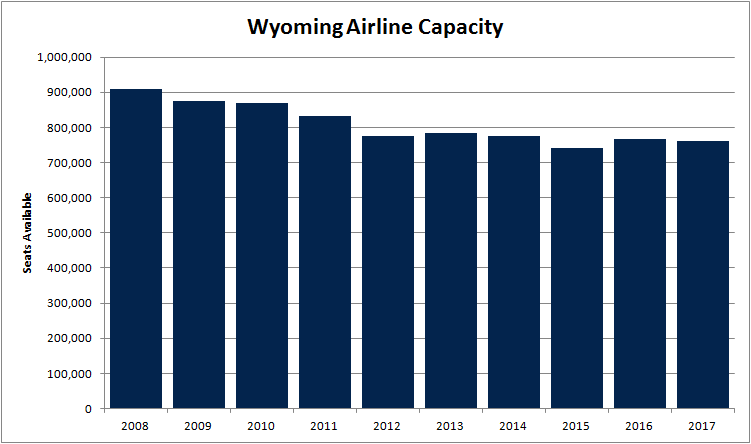 The state of Wyoming is not alone in dwindling capacity numbers; communities nationwide served by smaller aircraft are declining as a result of capacity cuts.
Below: Smaller aircraft capacity is on the decline throughout the US. *2017 is forecasted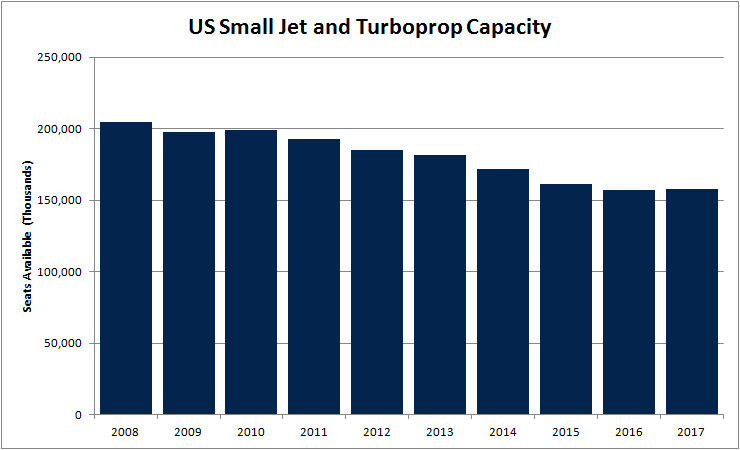 Risks to the Future of Wyoming Air Service
Higher ticket prices, fewer flights, poor on-time performance and high cancelation rates may be a few things you've noticed about the airlines recently. Airlines, particularly regional airlines, are being met with a number of significant challenges that are adversely effecting our small communities. New federal regulations have created a shortage of regional pilots, forcing regional airlines to shift their strategies, reduce flights, park aircraft, and rethink the markets they serve.
Federal Regulatory Changes and the Pilot Shortage:
In August of 2013, new FAA rules went into effect contributing to pilot shortages. These regulations require first officers, also known as co-pilots, to hold an Airline Transport Pilot (ATP) Certificate and must first acquire 1,500 flight hours before obtaining the necessary certification. Previously co-pilots were simply required to hold commercial pilot certificate and 250 flight hours.

In January of 2014, more restrictive Federal Air Regulations (FARs) pertaining to crew scheduling went into effect, requiring airlines to staff approximately 20 percent more pilots for operating an unchanged schedule (FAR 117).

These rules and regulatory changes had a number of unintentional consequences, particularly relating to regional air carriers serving communities like those in Wyoming.
With needing to hire roughly 20 percent more pilots, larger legacy airlines such as Delta and United, began to hire more experienced pilots from regional air carriers in order to maintain their schedules.
Regional carriers are then having to double their efforts in acquiring new pilots to satisfy the approximate 20% lost in through attrition to the larger airlines and an additional 20 percent in order to meet their incumbent needs from the crew scheduling changes.
This ripple effect has left a huge void in the crew resources necessary for regional carriers operations. As a result these airlines have been forced to retire more aircraft, reduce flying frequencies and in some cases to entirely drop service at some smaller communities. In the past, regional airlines were able to draw from a sufficient pool of new pilots but with the addition of the ATP requirement, regional air carriers have now found themselves without a sufficient pipeline of new pilots as student pilot enrollment is on the decline.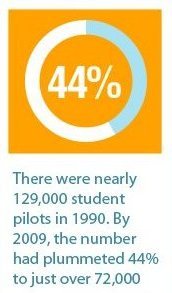 Student Pilots On the Decline:
New licensing and hourly requirements has also lead to a decline in student pilot enrollments
Education and required flight time to become an airline co-pilot can now exceed $200,000 - roughly the same cost to attend a four year public medical school.
15 years ago 75-80 percent of student pilots wanted to be a professional pilot, now it's down to 55 percent.
Fewer military pilots are joining airlines as the military has been actively retaining pilots rather than replace them.
More domestic pilots are opting to fly overseas where experience requirements are lower, and the pay-grades are often higher.
High costs are discouraging new students from pursuing a career as a commercial airline pilot. More student pilots are opting to become corporate pilots which requires less hours, go overseas where hour requirements are also less and pay generally better, or pursue other careers. Without new pilot replenishments, regional airlines are left with increasing vacancies.
Retirements From Larger Airlines are Set to Soar:
Additionally, between now and 2022, 18,000 mainline pilots are slated for retirement. To put that in perspective:
Presently, the regional airline industry employs 18,000 pilots. Mainline retirements would require the entire pool of regional pilots for replacements. Additional hirings by regional carriers will not offset retirements.
Assuming nothing changes, by 2022 the regional airline industry will be 20 percent of what it was in 2014 and 150-200 small communities are at risk of losing air service all together.
---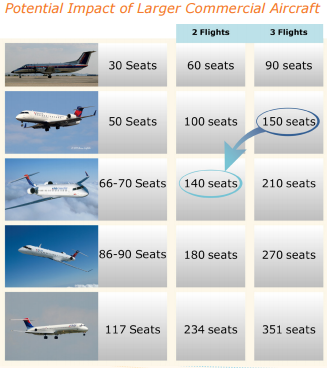 Industry Operational Challenges:
Aircraft with 50 seats or fewer, like those serving the majority of Wyoming's communities, have become increasingly uneconomical to operate as costs for maintaining and crewing these aircraft continue to rise. Further pressured by the above regulatory changes, these aircraft are being removed from service rapidly.
40 percent of aircraft with 50 or fewer seats, such as those that serve 9 out of 10 Wyoming's communities, have already been retired or are being retired at an accelerating rate
50 seat regional jets are no longer being manufactured
By 2020 most remaining small jets are likely to be retired
Communities able to retain air service will likely face reduced frequencies to support the use of larger aircraft and those unable to support the new capacity will likely lose all service.

Above: Wyoming has a high dependence on regional jets
Sources:
Bachman, Justin. "With Pilot Shortage, Regional Airlines Search for Someone to Pay Rising Costs." Bloomberg.com. Bloomberg, 28 Feb. 2014. Web. 12 June 2015.
Loren, April. "Medical School at $278,000 Means Even Bernanke Son Has Debt." Bloomberg.com. Bloomberg, 11 Apr. 2011. Web. 12 June 2015.
Swelbar, William. A Deeper Dive On The Timing Of Events That Will Impact The Pilot Supply Issue. Washington, DC: Intervistas, Mar. 2015. PDF. http://airservicealliance.org/wp-content/uploads/2014/08/RASA-Deck-on-Pilot-Supply-0315.pdf
"Regional Air Service Alliance." Regional Air Service Alliance, 2015. Web. 12 June 2015.
Sharkey, Joe. "Expect Fewer Seats, Even for Overseas Flights." The New York Times. The New York Times, 27 Aug. 2012. Web. 12 June 2015.
Stewart, James. "'Discipline' for Airlines, Pain for Fliers." The New York Times. The New York Times, 11 June 2015. Web. 12 June 2015.
Zillman, Claire. "Why Would-be Pilots Are Being Kept out of Airline cockpits." Fortune. N.p., 12 Mar. 2014. Web. 12 June 2015.
Federal Aviation Administration (FAA). FAA Boosts Aviation Safety with New Pilot Qualification Standards. Faa.gov, 10 July 2013. Web. 12 June 2015.
Diio Mi. Diio Mi-Market Intelligence for the Aviation Industry, n.d. Web. 11 June 2015. <https://www.diio.net/>.