Planning and Programming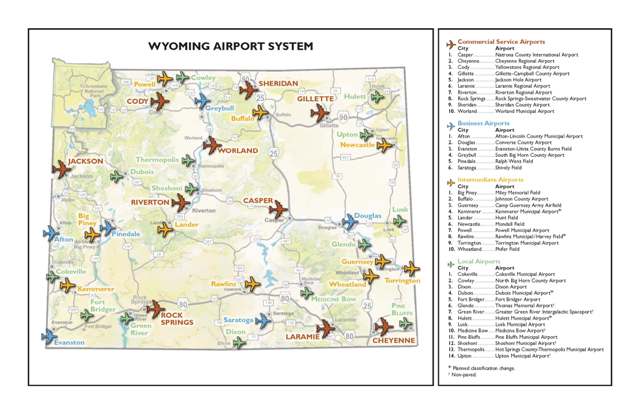 Purpose Statement:
The purpose of the Planning and Programming Program is to ensure development of a safe, long-term viable statewide system of airports.
Program Description:
The program is comprised of four (4) staff members, whose responsibilities are as follows:
Initiate, compile and monitor activities of the Aeronautics Commission.

Initiate, develop, monitor and maintain statewide airport capital improvement projects

Maintain, release and approve grants and loans

Ensure each Wyoming airport maintains approved long range planning and environmental documents for sustainable airport facilities throughout the state.
Program Goals:
The primary goals of the Planning & Programming Program are as follows:
Plan safe and secure airports;

Exercise good stewardship of our resources; and

Enhance an integrated aviation system
Contact Information:
You may contact the Program at one of the following telephone numbers:
Christy Yaffa, Airport's Planning & Programming Manager – (307) 777-3956
Vacant, Senior Planner – (307) 777-3972
Cheryl Porter, Grants Specialist – (307) 777-3959
Vacant, Planning Intern – (307) 777-4807