Grant information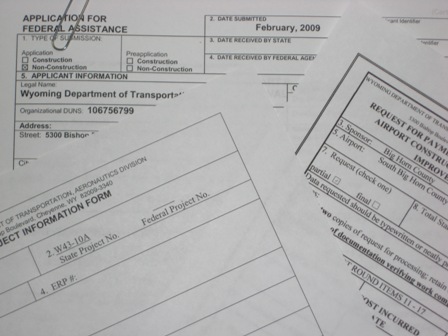 The Aeronautics Commission makes grants-in-aid from state funds, for use in the construction and development of airports, to counties, cities, and towns within Wyoming.
Typical projects funded by the Wyoming Aeronautics Commission include:
Construction Projects - Examples are runway or taxiway construction, NAVAIDS, equipment storage buildings, terminals, and lighting projects.
Maintenance Projects - Examples are crackseal, sealcoat, runway and taxiway marking, and concrete repair.
Equipment Grants - Examples are snow removal equipment, mowers, tractors, and front-end loaders, both new and used.
Planning Projects - Examples are land purchases, environmental studies, airport layout plans, master plans, site relocation studies, rates and charges studies, and economic benefits reports.
Marketing Grants - The Wyoming Aeronautics Division may grant up to five percent (5%) of available funding to airports, for use in the marketing & promotion of air service in Wyoming.
For more information, please contact the Aeronautics Division at (307) 777-3952.