Disabled Parking Placards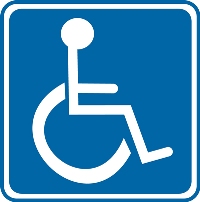 Applying for a placard in person
When applying for a placard in person at your local driver exam office, you will be asked to show identification such as a state-issued driver license or ID card. If you do not have one of these documents, a state-certified birth certificate or other identity document may be used. Contact your local driver exam office if you have any questions concerning acceptance of a document.
Applying for a placard by mail
You may also apply for a placard(s) by mail. The top portion of the
application form
must be completed by you, or a family member for you if you are unable to do so, and your doctor must complete the "Physician Disability Certification" section. The application form is available below.
Mail the completed form to:
WYDOT - Driver Services
Driver Review
5300 Bishop Blvd.
Cheyenne, WY 82009-3340
Renewing your temporary placard
A temporary placard is only valid up to 6 months. It may be renewed one time for another 6 months by submitting a new
application form
completed by you and your doctor. If you need the temporary placard for more than 12 months, you should check with your doctor about eligibility for a permanent placard.
Other information concerning placards
Placards for minor children are issued in the child's name, not the parent or guardian name.
Eligibility requirements for a placard are listed on the application form or you may find them under W.S. 31-2-213. By checking the appropriate box and signing the form, your physician is acknowledging that you meet the eligibility requirements.
Forms with erasures and/or whited-out information are not acceptable.
Forms that are not signed by both a physician and the eligible applicant will be returned without issuance of a placard.
No fees are associated with the issuance of disabled parking placard(s).
Disabled Parking license plates
When you apply for a disabled parking placard, you may also desire a disabled parking license plate. To obtain the license plate, you must indicate this information on the application form. You are entitled to either two placards or one placard and a set of license plates. If you indicate on the form that you wish to be issued license plates, a copy of the application will be given back to you. The set of plates can also include plates for motorcycle,car or truck. The set of plates can be as many as need for all the vehicles you own(including motorcycles. Present the copy to your local county treasurer's office where license plates are issued. The county treasurer's office will issue the appropriate license plates. As with standard license plates, there is a fee for disabled parking plates.