Questions? Call Customer Service at 307-777-4800, Monday-Friday 8:00 AM to 5:00 PM, closed holidays.
Commercial Drivers License (CDL)

Generally, if the vehicle you drive has a gross vehicle weight rating (GVWR) of 26,001 pounds or more, or is designed to carry 16 or more passengers (including the driver), or you transport hazardous material in an amount which must be placarded, then you are required to have a Commercial Driver License (CDL) to operate that vehicle. If you need more detailed information to determine if you are required to hold a CDL, please refer to the "Do I Need a CDL?" chart.
There are exemptions for military, firefighters, farmers and ranchers; however, you are still required to hold the non-commercial class of license with the proper class and endorsements for the vehicle you are driving.
Use the links at the left to find specific information concerning disqualifications, endorsements/class of licenses, testing, Commercial Learners Permit (CLP), and driver certification.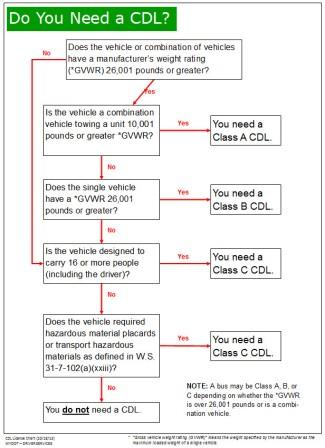 Federal DOT Medical Examiners Certification
A Federal Motor Carrier Safety Administration physical is required when applying for a CDL unless exempted by FMCSA Part 390.3(f), 391.2, 391.68, and 398.3. Information regarding this topic is available on the
FMCSA
website. For more information on Driver Certification and its relationship to the Federal DOT Medical Examiners Certification, please visit the
Driver Certification
page.
Skill Performance Evaluation (SPE) Waivers
Drivers with physical impairments which affect their ability to safely operate CMVs according to their medical examiners, or with missing limbs (e.g., a hand or finger, an arm, foot or leg), are required to obtain SPE certificates. Drivers in need of an SPE Waiver must contact
FMCSA
, as this is not a function of the State.
Questions regarding federal regulations for commercial drivers should be directed to http://www.fmcsa.dot.gov/ or by calling 307-772-2305.
Contact Us
Questions or requests regarding CDL issues, click here.