Driver Exam Stations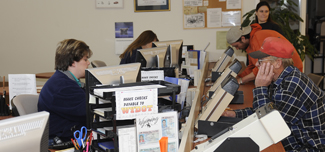 There are 29 Driver Exam Station locations in the State of Wyoming and are listed alphabetically by city. Please select the nearest city from the list below.
IMPORTANT NOTICE:
Due to a temporary staff shortage, there will be limited services available for the following locations and dates:
Casper Exam Station:
Mon - Fri, Dec 9 - 13, 2013 - there will be no road tests this week due to training requirements for examiners
Worland/Thermopolis/Basin Exam Station:
Shorthanded for an undetermined timeframe.
Jackson Exam Station:
No road tests will be given on Thursday and Friday for an undetermined timeframe.
This may affect wait times and availability of road tests at the exam station. We apologize for the inconvenience.