Location Information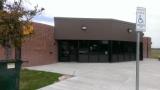 Cheyenne (Laramie County) - Map
1520 Etchepare Circle
Cheyenne, WY 82001
(307) 777-3835
M-F, 8 a.m. - 4:30 p.m. Effective Monday, Nov. 7, 2016 Class C road tests are now done on a walk-in basis
---
Additional Exam Station Information
Mailing Address 5300 Bishop Blvd. Cheyenne WY, 82009
Motorcycle, Re-Exams and CDL Skills Tests are scheduled by appointment only.
Class C road tests are now done on a walk-in basis Monday through Thursday 8 a.m. - 10:30 a.m., and 2 p.m. - 4 p.m. Friday 8 a.m. - 10:30 a.m.
Wait times range from 45 minutes to three hours, depending on staffing and customer traffic, please allow adequate time in your day.