Location Information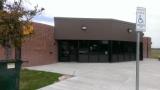 Cheyenne (Laramie County) - Map
Cheyenne, WY 82001
(307) 777-3835
M-F, 8:00 am - 4:30 pm
---
Additional Exam Station Information
Mailing Address 5300 Bishop Blvd. Cheyenne WY, 82009
Class C, Motorcycle, and CDL Road Tests are scheduled by appointment only. No Motorcycle or Class C appointments are scheduled after noon on Fridays.
Wait times range from 45 minutes to 3 hours, depending on staffing and customer traffic, please allow adequate time in your day.
An Express line is available for the following services:

Driving record purchase
Handicap Placard
Concealed Firearms Permit
Paying a fee
State Employee & Law Enforcement ID card purchase
Change of address only, not changing license or ID card
Scheduling a Road Test

When you arrive at the Exam Station, you will be required to take a number in order to secure your place in line.