Location Information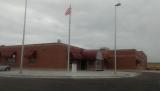 Douglas (Converse County) - Map
50 Orin Way
Douglas, WY 82633
(307) 307-358-7190
Wed-Fri, 8:00 am - 4:30 pm
Closed for lunch 12:00 - 1:00 pm
Closed Mondays & Tuesdays
Additional Exam Station Information
All classes of road tests are scheduled by appointment only.
For assistance on Monday and Tuesdays, call our Wheatland office at 307-322-6509.
If you have additional questions about the services offered at this Exam Station, please call the number above. If you have questions regarding your record, identity documents, etc., please call the Customer Service Desk at 307-777-4800.