Location Information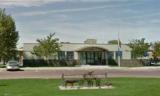 Torrington (Goshen County) - Map
2948 West C Street, Suite A
Torrington, WY 82240
(307) 532-1270
Mon, Tues, Thur, & Fri, 8:00 am - 4:30 pm
Closed Wednesdays
Closed for lunch 12:00 - 1:00 pm Torrington exam station will be closed July 28, 2016 at 12:00 p.m.. for local holiday normal business hours will resume July 29, 2016.
---
Additional Exam Station Information
Class C, Motorcycle, and CDL Road Tests are scheduled by appointment only.
For assistance on Wednesdays, call our Lusk office at 307-334-2098.
Applications for driver license and ID are in the lobby, in our cubicles. Please complete one prior to coming to the counter, if you are applying for, changing or renewing a driver license or ID card.