Location Information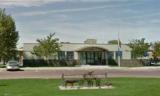 Torrington (Goshen County) - Map
2948 West C Street, Suite A
Torrington, WY 82240
(307) 532-1270
Mon, Tues, Thur, & Fri, 8:00 am - 4:30 pm
Closed Wednesdays
Closed for lunch 12:00 - 1:00 pm
---
Additional Exam Station Information
Class C, Motorcycle, and CDL Road Tests are scheduled by appointment only.
For assistance on Wednesdays, call our Lusk office at 307-334-2098.
Applications for driver license and ID are in the lobby, in our cubicles. Please complete one prior to coming to the counter, if you are applying for, changing or renewing a driver license or ID card.
If you have additional questions about the services offered at this Exam Station, please call the number above. If you have questions regarding your record, identity documents, etc. please call the Customer Service Desk at 307-777-4800.