Testing Requirements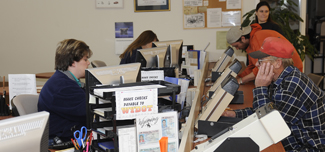 Wyoming Law (W.S. 31-7-114) mandates that applicants for driver's licenses and permits must be examined. Testing can be in written form, vision screening, and/or an actual demonstration of your ability to safely operate a motor vehicle on a roadway.
NOTE: English is the only language that Wyoming tests are given in. All manuals are only printed in English, as well. If you cannot speak English, you may use an interpreter for written tests.
Written Tests: You are required to take and pass a written test when you have never been licensed in this or any other state, when your driver license has been expired, or you have not driven for a period of two years or more. Wyoming's Q-test system consists of questions related to the class of license you are applying for. It also will contain questions regarding seat belt usage and other laws related to driving on Wyoming roadways. If you are not familiar with Wyoming's laws for operating a motor vehicle, you should study the appropriate manual for the type of vehicle you are being licensed for:
Oral Tests: Wyoming's Q-test system allows for applicants who have difficulty reading to hear the questions orally through a phone system. If you prefer to hear the questions, as well as read them, then you must ask the examiner to connect you with the oral system before you begin your Knowledge test.
If you fail the written test: You may only take the same written test twice in one day.
Driving Skills Tests: You are required to furnish your own vehicle for a driving skills test. Due to staffing requirements, some of our Exam Stations may require you to schedule your driving skills test in advance. Please refer to the driver exam office locations page for information regarding testing at your local office. Before your driving test you should make sure that your vehicle is:
legally licensed, registered, and insured
equipped with seat belts for both the driver and the front-seat passenger
in good working condition - brakes and brake lights, head and tail lights, horn, doors must be able to be opened from the inside, windshield must not have cracks that obstruct the driver's vision, windshield wipers and tires must not be frayed or bulging
The skills test route consists of intersections, stop lights and various other situations that test your driving skills. You should be prepared to demonstrate your ability to drive safely in all types of driving conditions. An interpreter is allowed on a skills test except for CDL skills testing. Failure to obey state law is grounds for an "automatic failure" of your skills test.
If you fail the driving skills test: The examiner has the authority to require that you wait a certain amount of time (days, weeks, etc.) before you can take the test again based upon their observation during the testing and for other discretionary reasons. One of the more common reasons for delaying a second driving test is because the examiner determines by observation that you need more practice time driving.