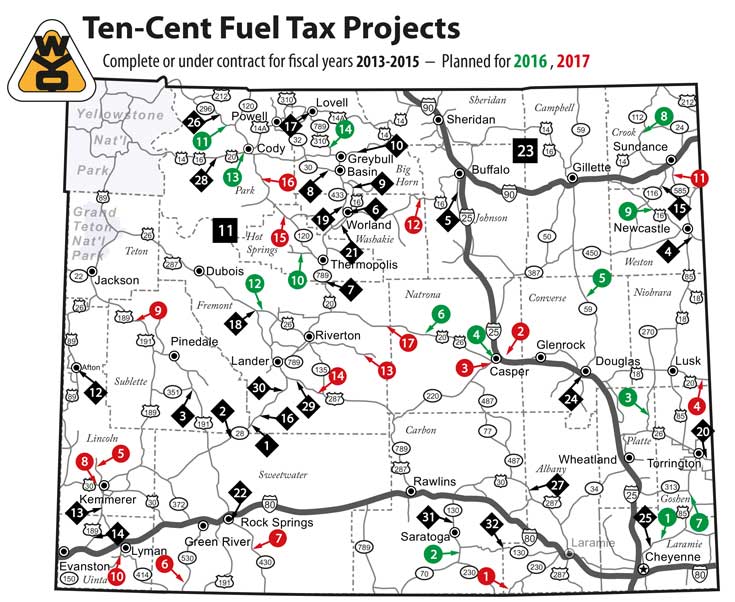 All revenue from the 10-cent fuel tax increase is used for work to maintain the state's highway system in its current condition.
The map above shows all the 10-cent fuel tax projects from 2013-2015 and those planned for fiscal years 2016-2017.
FY 2017:


1. WYO 230 - Pavement overlay; 9 miles
2.
US 20-26-287 in Casper - Pavement overlay; 4.2 miles
3. WYO 220 in Casper - Pavement overlay; 0.4 mile
4. US 20 - Pavement overlay; 7.6 miles
5. WYO 233 - Pavement overlay; 7.7 miles
6. WYO 530 - Pavement overlay; 5.7 miles
7. WYO 430 - Pavement overlay; 11.8 miles
8. US 30 - Pavement overlay, 6.7 miles
9. US 191 - Pavement overlay; 7.7 miles
FY 2015:
10. WYO 414 - Pavement overlay; 2.7 miles
11. WYO 585 - Microsurfacing overlay; 10.7 miles
12. US 16 - Pavement overlay; 8.5 miles
13. WYO 136 - Pavement overlay; 12.2 miles
14. US 287 - Pavement overlay; 6 miles
15. WYO 120 - Pavement overlay; 6.2 miles
16. WYO 120 - Pavement overlay; 11 miles
17. US 20-26 - Pavement overlay; 6.2 miles