Douglas Streets - Yellowstone Highway Bridge Project
Date: 02/19/2010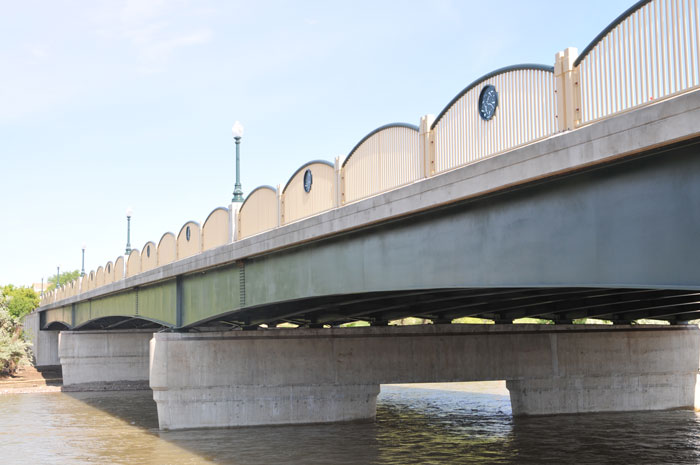 WYDOT's reconstruction of a section of the Yellowstone Highway and its bridge spanning the North Platte River in Douglas is the winner of the Wyoming Engineering Society's 2009 President's Project of the Year award.
The bridge serves as the main North Platte River crossing for Douglas, and is used by residents and visitors alike to get from the West I-25 Interchange into downtown or to the Wyoming State Fairgrounds. Bicyclists and pedestrians use the highway to gain access to an extensive system of trails along the river.
A context sensitive approach to the design of the new highway section and bridge created a fitting gateway to the city from the west, and the wider structure provides the public with a safer river crossing.
The original bridge was built in 1923 and widened in the 1950s. It was deteriorating and rated structurally deficient due to the poor condition of the concrete deck and supports.
Traffic analyses indicated, as Douglas continues to grow, congestion on the highway will increase, particularly during the summer tourist season vital to the town's economy.
WYDOT responded to these challenges with a design for a reconstruction project on nearly a mile of highway, including a new five-lane bridge to greatly increase traffic capacity. The wider bridge and road section eliminate the merging movements previously required when the five-lane road to the east narrowed to a two-lane bridge and road to the west.
WYDOT worked with the city of Douglas to design a replacement bridge that would take some architectural cues from the original bridge and include boulevard lighting and decorative railing featuring cutouts of the city mascot jackalope.
WYDOT engineers did all the preliminary and final design work on the project, and handled the contract and construction administration. Hedquist Construction of Mills served as prime contractor, and CC&G of Lander was the bridge subcontractor.
The initial estimate of the project cost was $16,341,335, and the work was completed for $11,563 below that estimate. The bridge was opened to traffic on June 3, 2009.
The new bridge is one of the widest in Wyoming at 83.5 feet, and is 430 feet long. Along with the widened highway section, it provides better access to downtown Douglas with plenty of capacity for future growth. The added continuous turn lane improves safety, and the overall improvement in traffic efficiency can facilitate growth of tourist- and traveler-related businesses.
The President's Project of the Year award is sponsored annually by the Wyoming Engineering Society to recognize excellence in engineering and surveying projects that benefit Wyoming residents.