Nugget Canyon Wildlife Underpass Project
Date: 10/29/2010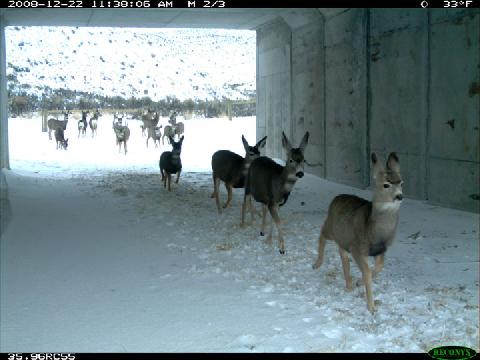 The Nugget Canyon wildlife crossing project was awarded a 2010 Exemplary Ecosystem Initiative Award for exceptional environmental stewardship­.
The award presented by the Federal Highway Administration recognizes WYDOT's outstanding commitment to reducing the number of animal-vehicle crashes along 14 miles of US 30 in Nugget Canyon by building underpass that allow animals to cross under the highway and deer fencing to direct the animals to the crossings
The project has improved public safety, helped protect the state's wildlife resources, and served as an example for other projects around the state.
Also recognized by the award were WEST, Inc., the Wyoming Game and Fish Department, and Wyoming Cooperative Fish and Wildlife Research Unit at the University of Wyoming.