Vandehei Avenue Interchange
Date: 02/06/2012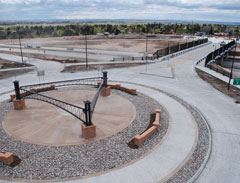 WYDOT's reconstruction of the Vandehei Avenue Interchange on I-25 in Cheyenne earned Honorable Mention in the Wyoming Engineering Society's 2011 President's Project of the Year competition.
The project also was featured as the American Association of Highway and Transportation Officials Project of the week in July 2012.
The interchange is a high-volume principal arterial that connects the Western Hills residential area with the rest of Cheyenne. Heavy daily traffic was congesting the interchange. Delays, crashes, driver frustration and a lack of adequate pedestrian facilities were becoming unacceptable.
On both sides of I-25, the interchange ramps were separated from frontage roads by 80 feet. Vandehei was the through route with stop signs on the ramps and frontage roads. This configuration made it difficult for motorists entering Vandehei to keep track of traffic.

Drivers making a left turn or using exit ramps or frontage roads often were forced to wait, resulting in stacking of vehicles

and

drivers taking unsafe gaps.
Signalization was not practical because there was virtually no room to store vehicles on Vandehei between the ramps and the frontage roads.
Using present and 20-year projected traffic volumes for modeling, single-lane roundabouts were found to be the ideal solution.
The operation of the roundabouts has already proven to be a major improvement for traffic flow, minimizing dangerous movements and extended wait times

. Crashes, if any, are low-speed sideswipes with no right-angle collisions. The roundabouts will accommodate projected traffic increases well into the future.
The Vandehei overpass was narrow, the bridge deck was in very poor condition and pedestrian facilities consisted of one narrow sidewalk across the structure.
The bridge abutments, piers and superstructure were widened and rehabilitated to extend the service life of the bridge and make it safer for the current and future traffic volumes. New 8-foot sidewalks cross both sides of the structure, and are protected by traffic and pedestrian railing

.
Aesthetic features, including the railing, color and texture of deck and sidewalk facia, lighting and retaining walls under the bridge, enhanced the look of the interchange and create an attractive gateway to north Cheyenne.
The project was completed for $6.1 million, on budget and 25 days ahead of schedule.