Trappers Point Wildlife Connectivity Project
Date: 08/21/2012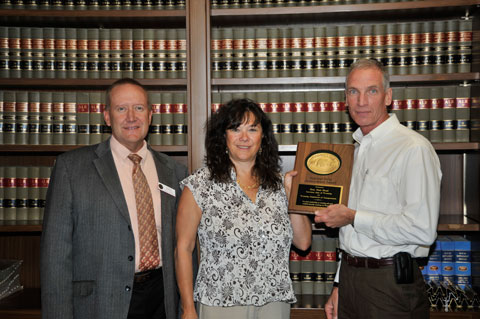 The National Parks Conservation Association (NPCA) has presented a National Parks Achievement Award to WYDOT for its work in creating safe and wildlife-friendly roads.
Director John Cox and Steve Ferrell, the governor's wildlife and endangered species policy advisor, accepted the award on Aug. 14 on behalf of Gov. Matt Mead and all who have collaborated on the wildlife crossing projects.
NPCA Senior Program Manager Sharon Mader said her group supports preserving wildlife migration corridors into national parks around the nation.
The $9.7 million Trappers Point project scheduled for completion this fall includes two overpasses and six underpasses along US 191 and US 189-191 in the Pinedale and Daniel Junction areas to serve wildlife including pronghorn migrating to and from Grand Teton National Park.
"This project is really a model for the country and I was so proud to sit in the Wildlife Committee meeting at the Western Governor's Association and have Wyoming be the state that was being recognized for its amazing work on wildlife migration corridors," Mader said. "It's wonderful to see Wyoming at the forefront of that."
Cox said District Engineer John Eddins was the driving force behind the Trappers Point project, and his crew did much of the work on it.
The project previously was honored with an Exemplary Ecosystem Initiative Award from the Federal Highway Administration for the cooperative effort among state and federal agencies that made it possible.
"This was very much a collaborative effort on the part of a bunch of agencies, but primarily, from our perspective, between the Department of Transportation and the Wyoming Game and Fish," Cox said.
Chief Engineer Del McOmie said animals are already using some of the Trappers Point underpasses, even though construction is not yet complete. Tens of thousands of animals are using the wildlife underpasses previously built in the Nugget Canyon and Baggs areas, he said, which improves safety for both the animals and motorists.
Ferrell, who served as director of the Game and Fish Department for three years before moving to the governor's office, also lauded the level of interagency cooperation in Wyoming.
"Hats off to John and Del and their staff for making this happen," he said. "I think it shows Wyoming's continued commitment to public safety and making highways a safe place for travelers."