Weight Restriction issued on WYO 410, repairs in future
Date: 03/18/2012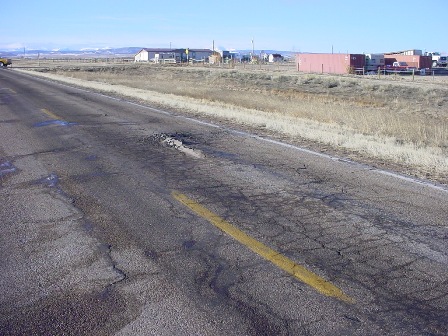 The Wyoming Department of Transportation officials in District 3 have issued a weight restriction on WYO 410, also commonly known as Robertson Road, in the Bridger Valley/Evanston area.
Due to roadway pumping, subgrade saturation and subsequent break-up of the asphalt surface, WY 410 travelers will be subject to a weight restriction of six (6) tons per axle. The limits of the restriction are between milepost 6 and milepost 10.
"This section of highway sits on a high plateau with minimal drainage, the spring melt and frost coming out of the ground saturates the old subgrade," District Maintenance Engineer Tory Thomas said. "This causes roadway pumping and results in the break-up of the asphalt surface."
In the meantime, WYDOT crews will be waiting for drier conditions to begin patching the damage sustained during the spring.
The weight restriction helps minimize damage to the road during periods of instability and any violations could cause serious damage. The restriction is effective immediately and will continue until WYDOT authorities release it.
However, residents of the area will soon be seeing improvement to this road next year. The project will extend from milepost 3.86 to milepost 10.5 and will include widening, new overlaying pavement and some isolated reconstruction on the sharp curves in the road.
The project is scheduled for letting this fall and work should begin next spring.