Bridger Valley will see road repairs, new bike path
Date: 03/17/2012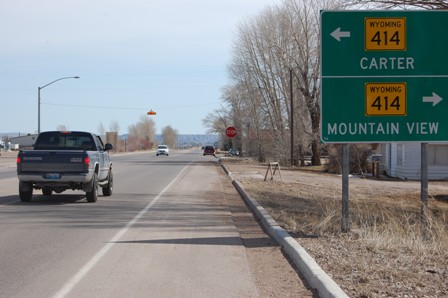 Mountain View, Wyo. The Wyoming Department of Transportation has begun construction work on WYO 414, Urie to Mountain View this month.
The 2.9 million dollar project was awarded to LeGrand Johnson Construction Co. out of Logan, Utah. Project improvements will include grading, draining, new pavement, new guardrail and fencing, replacement of sidewalks, curb and gutters, and other miscellaneous work. It will also include a new bike path from milepost 96.83 to milepost 98.99.
The bike path, which is about 2 miles long and 8 feet wide, will provide the residents of the Bridger Valley a safer alternate route for biking and walking.
"Other parts of this project will be bringing the sidewalks up to ADA standards, extending curb and gutter and sidewalk in front of the Pamida and in Urie, and building a center turn lane into the industrial park at Bridger Valley Lane." Resident Engineer Charlie Bauer said.
WYDOT and LeGrand Johnson Construction Co. also plan to mill down the existing road through Mountain View and add some new pavement, along with making improvements to the bridge over the Smiths Fork River. The bridge work will include sealing and other miscellaneous repairs.
While WYDOT and LeGrand continue with their project, the Bridger Valley Joint Powers Board and Town of Mountain View will be making their own improvements to the section as well, including water and sewer work. Although the projects are separately funded and performed, the work will occur simultaneously for maximum efficiency.
Bauer also said that WYDOT and LeGrand Johnson Construction Co. will be taking down the dangling flashing red lights at the Urie Intersection and replacing them with a single flasher atop each stop sign at the intersection.
"This will do two things for safety: one, allow for taller vehicles to travel through the intersection, and two, allow safer access for maintenance workers when repairing the lights," Bauer said.
WYDOT would like to remind drivers to slow down in work zones, be alert and cautious of roadside workers.