WYDOT will add VSLs, upgrade communication system
Date: 03/02/2012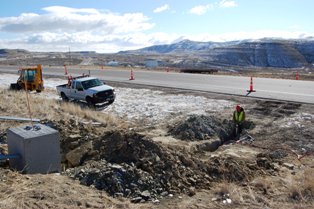 Rock Springs, Wyo. Although spring isn't quite in the air yet, the Wyoming Department of Transportation will be taking advantage of warmer temperatures and commencing some of their 2012 projects.
Casper Electric, Inc. with direction from WYDOT engineers and intelligent transportation systems (ITS) specialists, will be assembling new variable speed limit (VSL) signs at two locations in Sweetwater County. The first location will be several miles East of Green River at milepost 94.2. The VSL signs at this location will be posted on both the eastbound and westbound lanes.
"The VSL signs are a great way to help control the speed of traffic when circumstances necessitate a lower speed limit for the safety of the traveling public," WYDOT Project Engineer Emiliano Martinez said.
The second location for the new VSL signs will be on the eastbound on-ramp near exit 91 heading to Rock Springs from Green River. This VSL sign will inform motorists of the current speed limits on I-80 East as they enter the interstate.
In addition to the new VSL signs, Casper Electric, Inc. will also be performing various communication upgrades throughout the I-80 corridor near Green River and Rock Springs over the summer.
"The upgrades will allow us to provide even more reliable communication with the Transportation Management Center (TMC) in Cheyenne," Resident Engineer Clint Lockman said.
WYDOT requests that local traffic drive cautiously and be alert these areas, as WYDOT engineers, ITS specialists, and workers from Casper Electric, Inc. will be working on the shoulder of the road. Whenever possible, motorists are asked to reduce speeds and move to the other lane to accommodate highway workers on the shoulder.