William Cheney named to Wyoming Aviation Hall of Fame
Date: 10/25/2012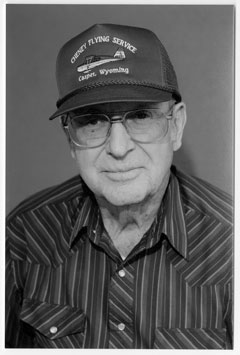 William H. Cheney, whose aviation career encompassed everything from conducting wildlife surveys to managing the Guernsey Airport, will be inducted into the Wyoming Aviation Hall of Fame during ceremonies Nov. 10 in Casper.
He was selected for the honor by the Hall of Fame's board of directors with the approval of the Wyoming Aeronautics Commission.
Cheney, 77,
logged nearly 17,000 hours of flying time during his career, most of it at the controls of single-engine, tail-dragger aircraft, often under extreme and unusual conditions. He has flown at least 32 different aircraft, including models made by Cessna, Piper, Beech, Stinson, Air Tractor, Lockheed, Bellanca, Maule and Citabria American Champion.
Flight services he provided over the years include aerial spraying, transporting survey crews and laborers to remote job sites, conducting wildlife surveys, towing advertising banners, predator control, livestock locating, transporting medical patients and prison inmates, power line inspection and taxi and charter flights.
When U.S. Rep. John Wold ran for the U.S. Senate in 1970, Cheney flew him to campaign stops around the state.
In 1977 he established the Cheney Flying Service using the private airstrip on the family ranch he grew up on in the Bates Hole area southwest of Casper. Agencies and corporations that contracted for his services included the Wyoming Game and Fish Department, U.S. Bureau of Reclamation, Wyoming Department of Corrections, Rural Electric Association, Glenrock Coal and numerous oil, gas and uranium companies.
Cheney also earned his instructors license and was the president of the Wyoming chapter of the Flying Farmers Association.
He served as manager of the Guernsey Airport from 2008-2010, and continues to live in that community.
The Wyoming Aviation Hall of Fame was established in 1994,
through the efforts of veteran Wyoming pilot R.R. "Red" Kelso,
to honor individuals who have made outstanding contributions to the establishment, development and advancement of aviation in Wyoming.