Section of WYO 70 designated scenic byway
Date: 11/19/2012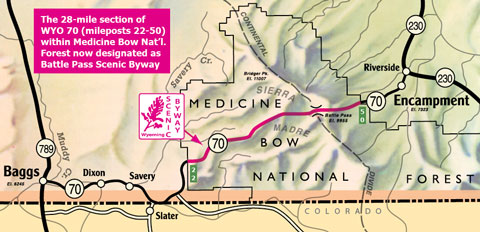 The Wyoming Transportation Commission has designated a 28-mile section of Wyoming Highway 70 in the Medicine Bow National Forest between Encampment and Baggs as the Battle Pass Scenic Byway.
The state's 16th scenic byway crosses Battle Pass at 9,955 feet in the Sierra Madre Mountains, through an area rich in historic and cultural sites, scenic vistas and recreation opportunities.
The route passes between Bridger Peak and Battle Lake, and near the Huston Park and Encampment River wilderness areas and Hog Park Reservoir.
It crosses the Continental Divide National Scenic Trail, and in addition to hiking, the area offers numerous opportunities for camping, fishing, snowmobiling, cross-country skiing and hunting.
The route also passes near the remnants of once thriving mining and timbering communities at the Battle and Rambler townsites and Copperton, and the Ferris-Haggerty Mine, which at its peak in 1897 was the 27th largest copper mine in the world.
The byway intersects with Sage Creek Road, which provides access to Aspen Alley, a popular destination for viewing fall colors, and it features eight turnouts providing views of scenic, historic and geologic significance.
To be designated a scenic byway a route must have at least one of six intrinsic qualities: scenic, recreational, historic, archeological, natural and cultural.
"The Battle Pass Byway has all of those intrinsic qualities," said Talbot Hauffe, WYDOTS scenic byway coordinator. "This designation says this is a unique part of the world. We think it's worth driving. You're going to see places and views that are uncommon."
Designation as a byway makes a route eligible for federal grants to preserve and promote features along the highway, however, there is no grant money available under the current federal transportation budget.
Since the scenic byway program began in 1992, Wyoming byways have won nearly $14.3 million in federal grants.
The Battle Pass Scenic Byway nomination was sponsored by the Grand Encampment Museum in Encampment with assistance from the Little Snake River Museum in Savery.