National Highway Traffic Safety Administration (NHTSA) Requirements for Manufacturers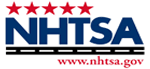 Vehicle manufacturers are required to register with NHTSA.

Vehicle manufacturers are certified through NHTSA.

NHTSA issues vehicle identification number (VIN) structures to registered manufacturers.

Information about vehicle manufacturers can be obtained from NHTSA

.
How Does a Vehicle Manufacturer Register With NHTSA?
Where Can You Find Information About Registered Vehicle Manufacturers?