College Drive Interchange Diverging Diamond
Date: 01/10/2014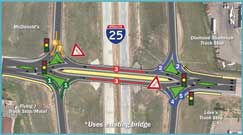 The Wyoming Engineering Society has named WYDOT's diverging diamond project at the I-25 College Drive Interchange in Cheyenne its 2013 Presidential Project of the Year.

The award is given annually to recognize excellence in engineering and surveying projects utilized by and benefiting the people of Wyoming.

The project was designed by WYDOT and HDR Engineering and built by S&S Builders of Gillette at a cost of $3 million.

The diverging diamond design was a profound makeover for a vital interchange. With the DDI design, opposing lanes of traffic are guided to crisscross lanes between the ramps on each end of the interchange. Thus, while crossing the bridge, oncoming traffic is on the right side of the road instead of the usual left. The switch accommodates left-turning movements without conflicting with oncoming traffic. All movements on and off the interstate become free or yield. At either end of the bridge, vehicles cross back over, returning everyone to the accustomed side of the road. Green time is improved with reduced congestion and increased safety.
Conflict points and the number of potential crashes are reduced with the DDI. The configuration makes it easier for large trucks to pass through the interchange and traffic conflicts are reduced. Islands and barrier between the lanes inherently slow speeds making it safer for all users, including pedestrians. The barrier also provides a pathway for pedestrians and bicyclists to cross to the middle of the road and travel in-between the eastbound and westbound lanes with protection from traffic.