Donor Alliance honors WYDOT
Date: 05/22/2013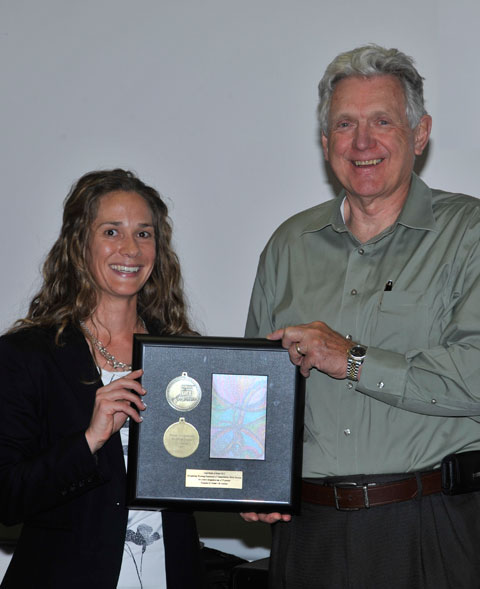 Donate Life America presented WYDOT Driver Services employees with its Gold Medal Award on May 14 in recognition of the high percentage of Wyoming residents who have pledged to be organ, eye and tissue donors.
"Fifty-nine percent of Wyoming residents say yes to organ donation when renewing or obtaining their driver license or state ID card," said Andrea Smith, director of communications and public relations for the Donor Alliance. "That puts Wyoming at the ninth-highest rate in the nation."
Without the cooperation and dedication of driver license examiners who make applicants aware of the donor option, that high rate wouldn't be possible," Smith said.
Driver Services Manager Don Edington accepted the award on behalf of his program and the people of Wyoming who are volunteering to be donors.
"I commend everyone in the room and I hope you'll go back and commend all your employees," Edington told Driver Services supervisors gathered in Cheyenne for training. "I also want to express my gratitude and thanks to the citizens of Wyoming. They're the ones that make this happen."
Larry Janos, whose son Tyler died in 2010, recounted to the group how his son's decision to be an organ donor has helped his family and the families of five people who were the recipients of Tyler's organs.
Knowing Tyler wanted to be an organ donor, and that his decision would save the lives of others made getting through the loss of his son easier," Janos said.
"We've been in contact with every one of the organ recipients, and we've made great friends," he said. "The other good thing was, when all of this was happening, the last thing you want to have to do is make critical decisions. Knowing in advance made all the difference in the world.
Donor Alliance Communications Director Andrea Smith presents the group's Gold Medal Award to Driver Services Manager Don Edington.