Many measures used to make work zones safe
Date: 06/12/2017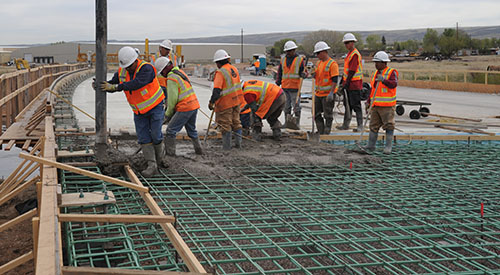 During construction season, the Wyoming Department of Transportation implements several work-zone safety measures designed to keep motorists and construction crews out of harm's way.
To reduce crashes and keep the traveling public safe, WYDOT uses measures such as reducing speed limits, requiring workers to wear high visibility hard hats and vests, using flaggers, installing barriers between the work and non-work zones and placing signs alerting drivers of upcoming work.
Those protocols follow federal guidelines, ensuring each state has the same safety measures instituted.
"Our safety measures ensure everyone stays as safe as possible," said Tim Morton, District 1 district construction engineer. "We review all of our construction sites and determine what's needed for that particular site. For example, when we lower a speed limit in a construction zone, we do that so it can give a driver more time react if something were to happen. If a driver needs to make a sudden stop, it's much easier at a reduced speed."
WYDOT creates work zones when crews are working on bridge, road, guardrail and other construction projects. Work zones separate traffic from construction, creating changes in traffic patterns.
WYDOT urges motorists to stay extra alert in work zones because crews and motorists are closer to each other.
"If you're driving through and you're distracted, it only takes a second to miss somebody accidentally stepping out in front of you," Morton said. "Whereas if you're paying attention, the opportunity to stop or avoid that collision is much better."
WYDOT has seen a consistent number of crashes in work zones over the past four years. There were 258 crashes out of 14,588 in 2013, 280 out of 14,810 in 2014, 272 out of 14,308 in 2015 and 245 out of 13,854 in 2016, WYDOT's Highway Safety Office statistics indicated. In 2012, the number of crashes in work zones was lower at 135 out of 14,036 total crashes.
When WYDOT posts signs about the construction a few miles before a work zone, it gives motorists an advanced warning that traffic patterns will change and the chance to find an alternate route, if there is one.
"There's a lot of activity in construction zones," Morton said. "There are workers and construction vehicles moving around in that area, and we want to make sure everyone stays safe."
Motorists also may encounter flaggers directing traffic through a construction zone. To prevent traffic from following a construction vehicle into a work zone, flaggers motion for drivers away from the area.
Flaggers may also be on site when work zones use pilot cars. If the work zone is down to one lane, flaggers will stop traffic on both ends. Then a pilot car will guide each section of traffic through one at a time, Morton said.
WYDOT employees, flaggers and construction crews are required to wear high-visibility hats and vests in work zones.
"The high-visibility gear ensures that our employees and the workers stay safe and are visible," Morton said.
Motorists typically follow the reduced speed limits and other safety warnings in construction zones. However, the Wyoming Highway Patrol also monitors work zones to ensure everyone follows the safety measures.