One lane of 15th Street bridge reopens today
Date: 07/14/2017
Categories :
District News Box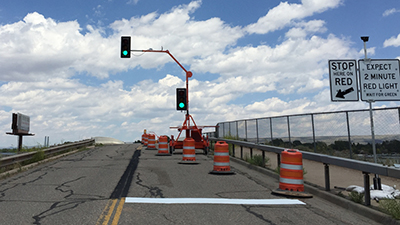 LARAMIE, Wyo. – One lane of the 15th Street bridge over Interstate 80 has reopened to traffic as of today, July 13.
Traffic from both directions is allowed to cross the bridge one direction at a time using the southbound lane. Temporary stoplights are being used to control traffic and overweight loads are not permitted.
The 15th Street bridge has been closed since May 21, when it was struck by a tractor trailer. The truck destroyed one of the columns that supports the bridge on the north side and damaged another.
The northbound lane of the bridge will not reopen until after repairs have been made.
WYDOT has been working to evaluate the bridge, including surveying the bridge for the design of the repair work. A contractor then had to be secured to set up traffic control on the bridge.
Construction to repair the bridge itself isn't expected until late fall following more investigation, design work, and the selection of a contractor.
The repair work will entail reconstructing two of the bridge's support columns plus any other damaged components.
WYDOT will continue to update the public on the progress of the bridge work.
Separately from this project, the city of Laramie plans to reconstruct 15th Street from Bill Nye Avenue to the ramp leading to the bridge.
For information about this news release, contact WYDOT District 1 public information specialist Matt Murphy at 307-745-2142.