Tips for staying prepared when driving in the winter
Date: 11/29/2016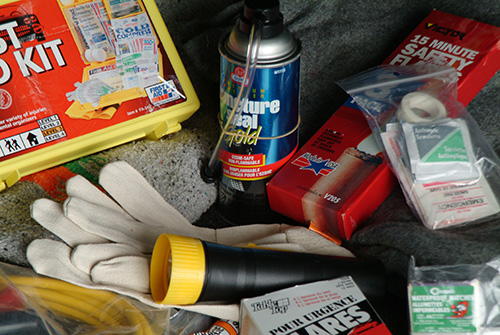 When motorists head out for either a short or long trip, they need to make sure they're prepared now that the winter months are here.
Some of the ways motorists can be prepared include having an emergency kit in their vehicles, making sure their tires are properly inflated, making sure their tire treads are still good and keeping the gas tank full.
Emergency kits should contain such items as water, nonperishable food, flares, a shovel and blankets. Another way to stay safe is for motorists to make sure their vehicles are in good working condition.
"You want to make sure the mechanical and the exterior parts of your vehicle are ready for travel," said Sgt. David Wagener, of the Wyoming Highway Patrol. "Specifically, you will want to check your windshield wipers, tires, headlights and defrosters to make sure they're all working properly."
Colder temperatures may cause tires to lose pressure, which can cause difficulty when driving.
"The lower the PSI the less surface area the tires are going to have to be able to grip," Wagener said. "Your tire tread is also important because if it's worn you won't be able to get traction on snow, ice and rain. So make sure you're maintaining your tires by checking both the tread and PSI once or twice a month."
Before heading out, motorists should make sure their windshield is also clear of any debris. If people just clear a small section of snow or ice from their windshields, it can be dangerous because it may prevent them from seeing properly.
"If you only have a tiny amount of space to see out of when you're driving, you're jeopardizing your visibility," Wagener said. "You need to have clear visibility especially when you're driving through intersections or encounter stop signs, yields signs and traffic lights. Make sure you give yourself more time to clear the snow and ice off your windshields in the front, rear and sides so that you have full visibility."
Another way motorists can stay safe is to have a full tank of gas before leaving. That way, if they get stuck in traffic, slide off the road or get into an accident, they will have enough fuel to keep the vehicle running so they can stay warm.
"There are also some parts in Wyoming where gas stations are pretty few and far between," Wagener said.
If motorists become stuck in their vehicles, Wagener said it's best to call emergency services and stay put.
"Don't start wandering off if you do get stuck," Wagener said. "There could be low visibility, which can result in you becoming disoriented and lost. When first responders show up, they don't want to have to also start looking for you."
While waiting for help to arrive, motorists also should check to make sure their tailpipes aren't blocked by snow.
"It's also good to keep one or two of the windows slightly cracked so you have fresh air coming into the cab of the vehicle," Wagener said.
Tips on being prepared for travel during the winter
Make sure has tank is full.
Check once or twice a month to ensure tire pressure and treads are good.
Have an emergency kit that contains water, nonperishable food, flares, a shovel and a blanket.
Stay with your vehicle if you get stuck or in an accident
Always make sure your cellphone is charged or bring a charger with you so you can call for help if you need.
Make sure your windshield is clear of debris.