WASHTO names Togwotee project most innovative
Date: 07/14/2014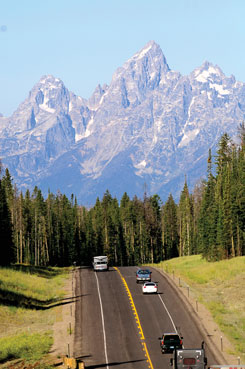 WYDOT's US 26-287 reconstruction between Dubois and Moran Junction was honored for the best use of innovation in a medium-sized project at the America's Transportation Awards western regional competition.
The award was announced on July 14 at the Western Association of State Highway and Transportation Officials annual meeting in Albuquerque, N.M. WASHTO includes 18 member states from Texas to Hawaii and the Dakotas to Alaska.
"The America's Transportation Awards competition showcases the exceptional, innovative and diverse range of transportation projects by state transportation departments that are improving travel and the quality of life in America, even during a time of funding uncertainty," said Mike Hancock, president of the American Association of State Highway and Transportation Officials and secretary of the Kentucky Transportation Cabinet. "These projects reflect a commitment to the nation's future and the need for continued investment in the transportation systems upon which we all depend."
The 38-mile Togwotee reconstruction began in May 2006 and was completed in July 2013 at a total cost of $146.2 million. New shoulders and eight new passing lanes were added, and substandard horizontal and vertical curves were improved. Deteriorating bridges were replaced, pullouts and recreational parking were enhanced, and under-crossings built for wildlife and snowmobilers. The work also included stabilizing 17 landslides.
Earlier this year, Oftedal Construction of Casper won the Associated General Contractors of America's Alliant Build America Award for best renovation of a highway for its work as contractor on four of the five phases of the Togwotee project.
The project also has been honored by the U.S. Forest Service with an award for outstanding partnership to preserve, conserve and enhance