Weather puts crews to work
Date: 09/18/2013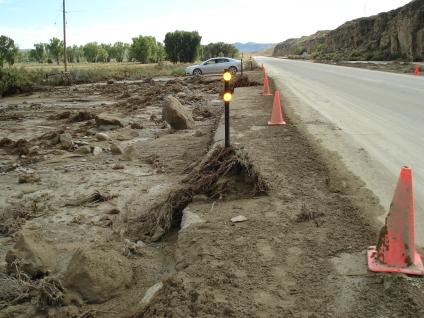 This year's snow has not fallen yet, but the Wyoming Department of Transportation maintenance crews were out in full force due to the recent weather. Flooding, mudslides and fog caused many delays and at times, closures, on western Wyoming's roads.
Although Evanston saw some brief delays on WYO 89 within the city limits on Sept. 7-8, most of the damage was done south of La Barge in Lincoln County on US 189.
Last Thursday, crews were called out after a trooper reported flooding around milepost 78. Alerts were sent out around 8 p.m. through WYDOT's online and text system to warn motorists of delays. Crews worked around the clock to get debris, water and mud off the highway. The road was cleared by the end of the night. However, the damage was just beginning on the drainage culverts at Name's Hill and Muddy Creek on US 189.
During the downpour, silt, mud and debris was building in and over the top of drainage ditches and box culverts, causing the water to build up and then overflow, carrying mud and debris over the highway.
Mother nature refused to give up and rain continued to come down as the weekend progressed. On Saturday, more mudslides were reported on US 189 south of La Barge between mileposts 80 and 82. US 189 was then closed at around 6 p.m. on Saturday night for clean-up. WYDOT maintenance crews worked through the night and US 189 was opened early Sunday morning. Crews continued to clean up the debris and mud through Sunday.
The rain continued through Sunday, causing a second brief closure, this time southbound, on US 189 at milepost 79 and milepost 80, due to flash flooding.
"After the first major mudslides and floods, the drainage ditches and box culverts were silted in and were even buried at some locations. They could not handle the volume of water after that," District Maintenance Engineer Tory Thomas said.
"Thankfully there was little to no surface damage to the highway, so the road can remain open to traffic once cleared," he added.
Clean-up still continues on US 189, but some work will have to take place on an emergency contract.
"Our maintenance hands will take care of a lot of the clean-up work, like shoulder repairs and clearing roadways. But much of the damage will have to go to contract, we just don't have the equipment or manpower to repair some of the more extensive damage," Thomas said.
Other areas were also affected by limited flooding were WYO 414 in the Bridger Valley and US 191 near Bondurant. However, the most severe damage was done near La Barge.
Manpower from multiple stations in Western Wyoming were pulled together to clear US 189 for motorists.
"Those guys worked their tails off, some of them even worked 24 hours straight to get that road open and keep it open," Thomas said.