WYDOT crews busy installing new Welcome to Wyoming signs
Date: 05/09/2017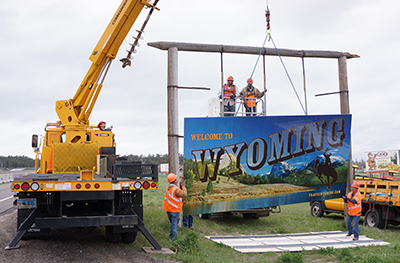 Travelers entering Wyoming will soon be greeted by new Welcome to Wyoming signs, featuring a scenic view of the Lower Green River Lake and Squaretop Mountain.
The Wyoming Department of Transportation's Sign Shop recently constructed the highly visible reflective signs, and department crews are now installing them. WYDOT will have the signs up by June 1.
Crews will be installing 32 8-by-4 foot and five 16-by-8 foot reflective signs at several locations in Wyoming, said Mike Calaway, WYDOT Sign Shop supervisor.
"The larger signs will be going on interstates 80, 25 and 90, while the smaller ones will go on the secondary roads," Calaway said. "The signs will be at locations where motorists enter the state."
WYDOT changes the design of signs every eight years to match the new state license plate, which is also changed every eight years.
"Our new Welcome to Wyoming signs mirror the image of our license plates, which reflect the natural beauty of the state of Wyoming," said Gregg Fredrick, WYDOT chief engineer. "This unique sign will welcome visitors to our state as they travel to Wyoming's picturesque and scenic destination areas."
WYDOT and the Wyoming Office of Tourism collaborated on the signs. WYDOT's Public Affairs Office designed them to look like the state's license plates.
"No matter which state agency we work for, it's our job to champion Wyoming," said Diane Shober, executive director for the Wyoming Office of Tourism. "This interagency project allowed us to work collaboratively with the Wyoming Department of Transportation as we collectively greet visitors to Wyoming, while also welcoming residents home."
With the signs displaying a scenic Wyoming location, visitors sometimes stop where there's a pullout to get a photo of themselves with the signs.

"We're proud of the state of Wyoming so, we also decided years ago to start adding some artwork to the welcome signs," said Joel Meena, Traffic program manager. "Not only are these signs beneficial for Wyoming's tourism, but more importantly, they let travelers know when they're entering the state of Wyoming."