WYDOT gears up for road construction season
Date: 04/14/2017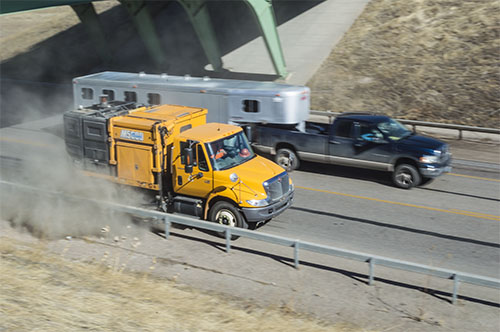 Construction crews will soon start working on several projects throughout the state, which will improve the condition of the state's roadways and bridges and enhance safety and traffic flow.
Motorists will see crews working on pavement repairs and resurfacing, bridge rehabilitation, rockfall mitigation and other projects on Wyoming's highways.
The Transportation Commission is expected to award about $259 million in contracts by September. Construction crews will be working on over 120 WYDOT projects.
"In Wyoming, our highway construction season is very short, and motorists will encounter many construction sites as they travel throughout our state," said Gregg Fredrick, WYDOT chief engineer. "It is important to slow down, be alert, expect the unexpected, and drive safely through these work zones."
The following are highlights of some of the projects.
Interstate projects
In the northeastern part of the state, WYDOT will continue work on the $46.4 million North Sheridan Interchange project, which includes constructing a new interchange on I-90, realignment and other work on several streets in Sheridan. The Wyoming Transportation Commission awarded the contract in June 2016.
Crews completed phase one in 2016, which included grading and dirt work for the new interchange and Decker Road. During phase two this year, crews will continue the interchange construction and construct new alignments on North Main Street, Yellowtail Drive, Industrial Road and Decker Road in Sheridan.
On another section of I-90, crews will work on a 6-mile pavement project between Buffalo and Gillette that also includes bridge deck repairs. The project is expected to be awarded in April.
On the western side of the state, crews will work on a $14.7 million 10-mile overlay project on the east and west bound lanes of I-80 between Lyman and Granger Junction, where they will remove the top portion of the road and replace it with new material.
Crews will also work on a $7 million 12-mile overlay project on I-80 westbound between Rock Springs and Rawlins, which includes work on four bridges.

On the eastern side of the state, crews will work on a $9.2 million 7-mile paving and rehabilitation project on I-80 near Otto Road, west of Cheyenne. Crews will also make minor repair to eight bridges in that area.
On another section of I-80, crews will start work on an $8 million reconstruction project of three bridges near Pine Bluffs, which will also include a pavement overlay. WYDOT is replacing the bridges because of their age and condition.
On I-25, construction will take place on 4 miles west of Douglas that will repair cracked pavement and widen the shoulders. The project is expected to be awarded in July.
Non-interstate projects
WYDOT recently started the $23.5 million Harney Street viaduct and road project in Laramie. The work includes replacing the 53-year-old Clark Street viaduct, which has physical deterioration, connecting traffic from Snowy Range Road (WYO 230) to downtown Laramie and widening the Laramie River Bridge to four lanes.

Vehicle, pedestrian and bicycle traffic will be accommodated as part of this reconstruction project. The project is expected to be completed by July 31, 2019.
In the northwestern part of the state, crews will overlay 11 miles of WYO 120 between Meeteetse and Cody. The $3.6 million project will be paid for with 10-cent fuel revenue.
Crews will also start rockfall mitigation work on US 14-16-20 between Yellowstone and Cody, which includes removing loose rock and installing rock bolts, mesh and attenuators. On WYO 296, the Chief Joseph Highway, crews will replace old rockfall mesh with new mesh.
On the eastern side of the state, crews will work on a $3.4 million overlay project on 12 miles of WYO 94 near Douglas.

In the north central part of the state, crews will smooth the pavement surface on 9 miles of road on US 16 between Ten Sleep and Buffalo. The $3.3 million project will be paid for with 10-cent fuel-tax revenue.

WYDOT will also repair the intersection of WYO 22 and US 26-89-189-191-287 in Jackson (The Y Intersection) to remove rutting, and relieve traffic congestion. Paving fiber strands will be incorporated into the new pavement for additional strength and rut resistance. The work will also include modifying the intersection to add a left turn off US 26-89-191 onto WYO 22, removing the separate free right turns on and off WYO 22 and limiting movement into the intersection from Buffalo Way to a right turn only.
The commission will also award contracts for several other projects on non-interstate roads this summer. Several of the projects will use cost-effective repair methods by recycling the existing surface.
On WYO 136 east of Riverton, crews will repair 12 miles of road by removing 3 inches of pavement, mixing it with oil and resurfacing the road with the same material. In Rock Springs on 1-mile sections of Elk Street (US 191) and Dewar Drive (I-80/US 30 Business), crews will also remove the top section of road, mix it with an oil and resurface the road. Crews will complete a similar process on 8 miles of WYO 91 between Torrington and Huntley, but they will use a cement slurry instead of an oil.