Why Air Service Matters to Wyoming
Total annual economic impacts for commercial airline functions is more than $1 billion
More than 10,000 jobs are supported by commercial airline functions
An estimated $46.3 million in annual local and state tax revenues are generated
For every passenger using a commercial airport to board a commercial flight in Wyoming, the state realizes $220 in annual economic impact
Over 90 percent of of businesses responding to the 2013 Economic Impact Study indicated they rely on scheduled commercial airline service to improve the efficiency of their business
Having access to a commercial service airport was ranked as one the most important factors for a business location
An estimated 38,100 jobs have their efficiency improved by using commercial air service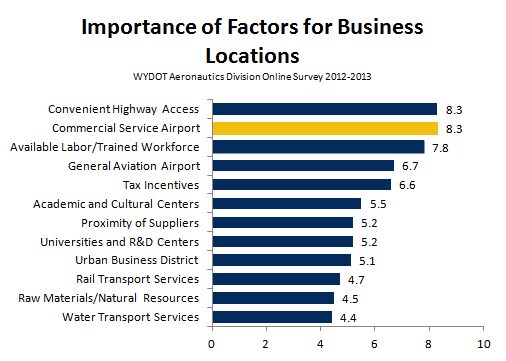 Pilot issues and industry changes have pressured regional carriers such as Wyoming based Great Lakes Airlines to significantly cut back their schedule to Wyoming cities. Great Lakes Airlines has also seen on-time performance and reliability plummet, forcing more residents to drive hours to either other Wyoming airports or out of state airports, or simply to not fly at all. Consequently:
In 2012, Great Lakes Airlines operated 6,471 flights out of Wyoming airports.
For 2015, they are projected to operate just 2,991 flights, a 53 percent decrease.
When looking at capacity, or the number of seats flown out of Wyoming, Great Lakes operates at just 27 percent of their 2012 levels.
Sheridan County Airport lost all commercial air service on April 1st, 2015.
Cheyenne and Riverton, have fallen below the 10,000 enplanement threshold in order to qualify for $1 million in AIP funds.
With 10,000 jobs and more than 1 Billion dollars in economic impact, much is at stake for Wyoming commercial air service.

What We're Doing to Help
Supporting efforts to allow carriers who operate aircraft with 30 seats or less through an exemption from co-pilot hiring rules
Support of Senator Enzi's bill allowing our airports with 10,000 or more enplanements in 2012 to keep their AIP funding
Serving on the Air Service Committee for the National Association of State Aviation Officials (NASAO) to advocate for the air service needs of rural states
Engaging current and potential air service providers for solutions
Educating stakeholders on the challenges facing commercial air service in Wyoming
Air Service Enhancement Program (ASEP) - A state program designed to provide Wyoming communities with financial assistance for enhanced airline service.