News and Information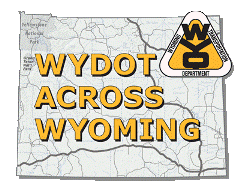 WYDOT is Wyoming's largest and most widespread state agency, with wide ranging functions and responsibilities - all concerned with providing a safe, high quality, and efficient transportation system.
Working closely with private sector partners, WYDOT employees plan, design, construct and maintain roads and bridges, while promoting safety and protecting the environment. Other WYDOT responsibilities include law enforcement, drivers licensing, motor vehicle regulation, airport improvement assistance, and coordination with local jurisdictions on planning, project supervision, and public transit.
WYDOT is committed to keeping the public informed about the agency's many activities and promoting understanding of why and how department personnel accomplish their responsibilities. Another goal is good communication with constituents to ensure citizens have the opportunity to provide input into the decision-making process.