Trucking/Commercial Vehicles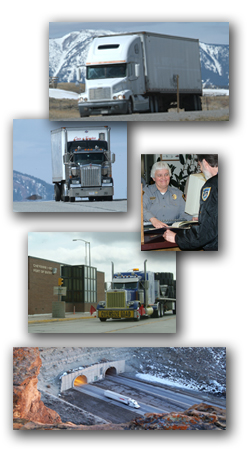 Trucks are a common sight on Wyoming roads, particularly on Interstate 80, one of the nation's busiest routes for moving freight coast to coast. Commercial vehicles wrack up millions of miles daily across Wyoming, providing an important service to residents and nonresidents alike, and sustaining considerable employment and economic activity.
WYDOT and the Wyoming Highway Patrol have numerous responsibilities for regulating commercial traffic, collecting fuel taxes and permit fees and ensuring vehicle, driver and highway safety.
Wyoming ports of entry, located in 14 locations across the state, are operated by the Commercial Carrier Program of the Wyoming Highway Patrol. You can call (307) 777-4376 for information about overweight and oversize load permits.
A number of trucking and commercial vehicle duties and responsibilities rest with WYDOT's Motor Vehicle Services Program. Offices are at agency headquarters just off the Central Avenue Interchange (exit 12) in Cheyenne.
Use the links at the right under "Navigation" to access information related to regulations, licensing, permitting and host of other issues. Useful links related to trucking and commercial vehicles can also be found on the Highway Patrol website.
Getting unwanted calls and solicitations since registering with FMCSA? Please refer to this guidance from FMCSA.
Truck parking map and guide