Bridge Design Manual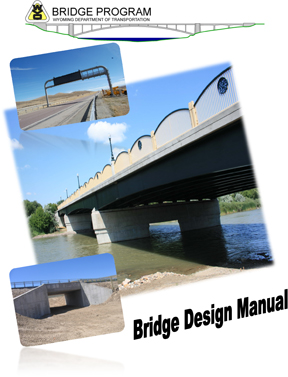 The Bridge Design Manual is intended to be the primary source of information on the design practices of the Wyoming Department of Transportation's Bridge Program. Other sources of information may need to be consulted. For uniformity and consistency of the final product, the methods and practices stated in this manual should be followed, unless special conditions warrant otherwise, and approved by Bridge Program Staff.
This manual is a guide for the preparation of common structural projects and because of the many variations possible, literal conformation may not be feasible. The use of this manual does not relieve the designer of his or her responsibility, nor should it act as a restriction or inhibitor of imagination and new ideas. Although Bridge Office policy is presented here for numerous situations, content of the manual is not intended to be exhaustive. Therefore, use of this manual must be tempered with sound engineering judgment.
Individual chapters or sections can be downloaded below.
Chapter 3 - Superstructure