Bridge Replacement "Off System" (B.R.O.S.) Program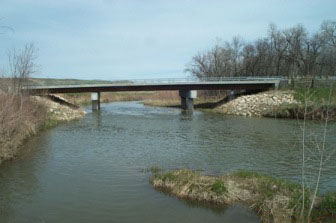 Purpose: Replace eligible bridges that are unsafe due to structural deficiencies, physical deterioration and/or functional obsolescence.
Overview: The B.R.O.S. program is a federally funded bridge replacement program to reduce the number of deficient off-system bridges. It applies to bridges owned by cities, towns and counties, located on a non-federal aid roadway and open to the public.
With the passage of the "Moving Ahead for Progress in the 21st Century" (MAP-21) Bill, the "select list" became unnecessary when it consolidated the Highway Bridge Program. Each state is still required to spend a minimum amount of bridge funding on off-system bridges.
WYDOT is developing a new process to select and prioritize projects to replace deficient bridges on the local system. The new process will continue to concentrate on replacement of bridges with structural deficiencies.
Please contact the Bridge Office at 307-777-4427 with questions concerning eligibility of bridge replacements under the B.R.O.S. Program.
B.R.O.S. Program Features and Facts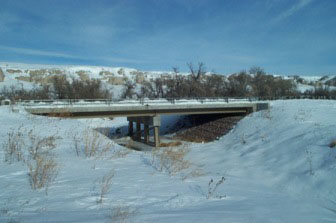 A bridge is defined as a structure having an opening of more than 20 feet. This may include multiple pipes when the clear distance between the openings is less than one-half of the smaller contiguous opening.
To be considered for replacement in WYDOT's B.R.O.S. program, the sponsoring entity or jurisdiction must submit to WYDOT's state bridge engineer a request identifying the structure number, route and milepost.
WYDOT's Bridge Program will review and verify the structure is eligible, and will notify the local agency confirming its eligibility. Consideration is given to a fair and equitable distribution of replacement projects throughout the state.
The matching fund ratio for B.R.O.S. projects is currently 90.49 percent federal-aid funds and 9.51 percent local funds.
WYDOT is responsible for administration and management of all B.R.O.S. projects. WYDOT or its contract consultant will complete the preliminary engineering, design, specifications and contract bid documents, bid advertising and bid award, construction contracting, construction engineering, inspection, environmental clearances and documents, and project completion/acceptance.
With B.R.O.S.-funded projects, WYDOT is responsible for right-of-way and utility clearance. Acquisition of right-of-way or payment for utility adjustments is an eligible expense to include right-of-way purchases by WYDOT on behalf of the local entity. The local entity shall ensure the structure is within a dedicated public right-of-way prior to the project request.
Deviation requests are reviewed by WYDOT Bridge and Project Development programs, and their acceptance approved by WYDOT's Executive Staff.
B.R.O.S. projects may include a nominal amount of approach roadway work necessary to incorporate the replacement bridge into the existing roadway or to return the grade line to an attainable touchdown point, using sound geometric design practices.
Prior to bidding a B.R.O.S. project, final design plans and cost estimates must be approved by the local sponsoring agency prior to advertising for bid.
Maintenance of a completed B.R.O.S. project is the responsibility of the local jurisdiction.
Should the local entity desire a breakdown of expenditures on a B.R.O.S. project, a list of project costs can be requested from WYDOT's local government coordinator. Additionally, the local sponsoring entity may request WYDOT's Internal Review Program to conduct an audit of project costs, if the local entity questions the charges or expenditures on a project.
Debris from demolished bridges will be made available to federal, state or local governments for erosion control, bank stabilization, ecosystem restoration or marine habitat creation. The recipient shall bear the costs of processing, delivery, placement, use and shall assume all legal responsibilities for placing the material.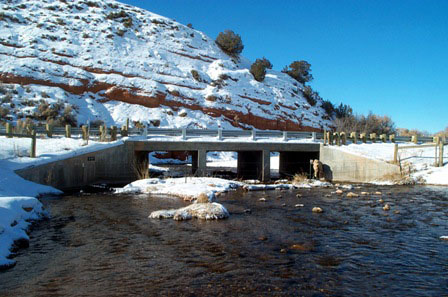 Structure KTP over Otter Creek in Washakie County