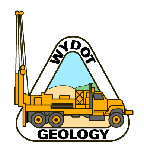 Torrington Streets (US 85 realignment) project - N253081
The Torrington Streets project involves realigning a section of US 85; the effort is focused on building a new overpass to span the Burlington Northern & Santa Fe Railroad. The overpass will connect US 85 to US 26 near F Street in downtown Torrington.
The work also includes landscaping in a park area created by the new bridge ramp between E, F and 17th streets, and grading of an industrial park road. Work began in mid-2012, and the contract completion date is May 31, 2014.
WYDOT's Todd Sullivan, P.G., and Blaise Hansen, P.G., were on the site in the fall of 2012 to coordinate geological aspects of the construction process, which included building a large embankment and retaining wall.
One task was installing two sensor plates (which resemble long cables) which will be used to monitor, on a daily basis, settlement of fill materials incorporated into the embankment.
Another task was quality control testing using a "pile driving analyzer" to verify that pile load capacities were being obtained.