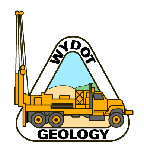 Hoback North Slide, US 191 - N104087
The Hoback North Slide, just north of Hoback Junction on US 191, has been a consistently unstable site since at least 1964. In an attempt to de-water the slide, an upslope trench drain was installed in 1986 which stopped movement for a time. However, the slide began to move again in 1997 and has been unstable since. The future widening of this section of US 191 required a lasting remediation design for the site.
The design involves coupled concrete shear piles to buttress the sliding soil and rock mass. The design for the coupled shear pile system was developed by Yeh and Associates, Inc. Malcolm Drilling Company, Inc. was contracted to build the project and construction was conducted from May 2015 to October 2015.
Yeh and Associates, Inc. designed a similar coupled shear pile system for the Narrows Slide, located approximately 13 miles west of Casper on WY 220. This was also constructed by Malcolm Drilling Company, Inc. and was completed in November 2013.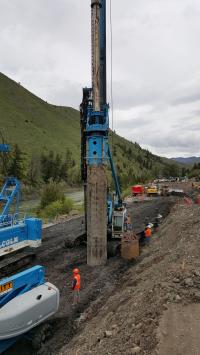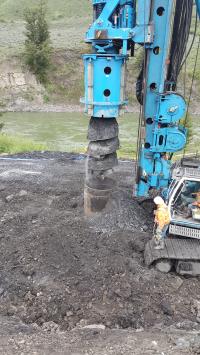 Malcolm Drilling rig setting casing and augering for shear piles.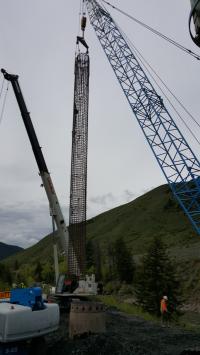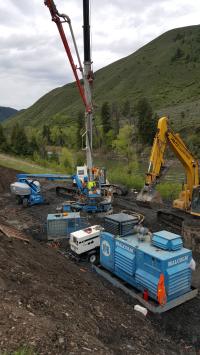 Rebar cage and concrete placement of shear piles.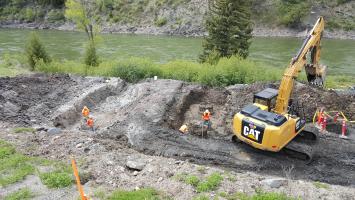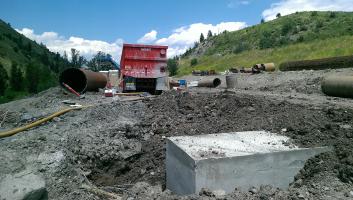 Excavation for placement and construction of pile caps to connect two concrete piles together at the top of the shafts.
View of the finished slope above the shear pile walls