2014 District 2 Construction/Maintenance Projects
These projects are scheduled for the 2014 construction season. Beginning season dates are weather and contract dependent. Information on these projects will be updated as necessary. Projects will be removed when completed.
For more information, contact District 2 Public Relations Specialist Jeff Goetz at (307) 473-3303
Casper - Salt Creek Highway at Shoshoni Bypass Reconstruction
Fresh pavement and new ramps will improve a portion of U.S. 20/26 (Shoshoni Bypass) surrounding Wyoming 254 (Salt Creek Highway), which will also be improved as part of this project.
Currently, traffic has been diverted onto two lanes of the Bypass as work on milling and paving the eastbound lanes continues. Once completed, traffic will be switched to the eastbound lanes to allow for paving on the westbound lanes.
Additional work at this time includes the grading/construction of new on-ramps and off-ramps. Work on the Bypass extends 1.46 miles between the Interstate 25 interchange (milepost 2.66) west to milepost 1.20.
Once the work on the Bypass is completed, crews will focus on Salt Creek Highway (WYO 254). A portion of Salt Creek, surrounding the interchange, will be expanded to five lanes, with a widened bridge over the Bypass.
This will allow for easier access to the ramps and for through-traffic on Salt Creek. This project extends from Salt Creek Parkway north past the Port of Entry to Revenue Boulevard.
During construction, access to the Port of Entry will not be restricted.
Once work begins at the Salt Creek overpass bridge, traffic will be reduced to one lane. A temporary signal light will be installed with four minute red light delays to cross bridge during reconstruction.
Salt Creek speed limit will be 30 mph through construction zone. Speed limits on the Bypass are set at 45 mph through the work zone.
Federal Project: STP-P471001
Contractor: Hedquist Construction, Casper
Project Completion Date: Oct. 31, 2015
Douglas - E. Richards Street
Project includes improvements to U.S. 20/26/87 between East Douglas Interchange and Mesa Drive. About one-half mile of highway on the eastern end of the project is to be rebuilt with concrete pavement and the remainder will be milled and filled with asphalt pavement.
Drivers will encounter traffic diversion, traffic safety devices and potential delays in the area.
Contractor: Concrete Foundations, Douglas
Project Completion Date: Oct. 31, 2015
Natrona County - Robertson Road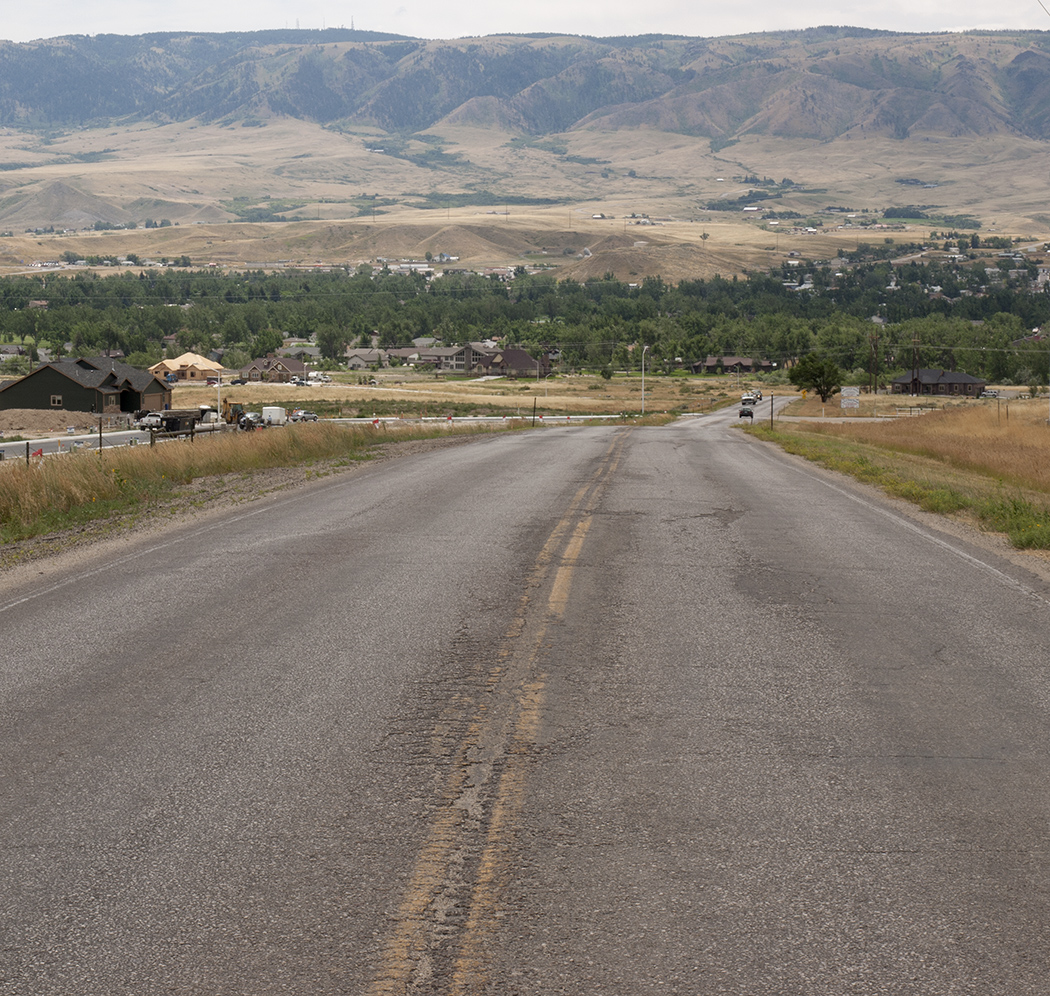 Project includes grading, draining, milling plant mix, placing crushed base and pavement surfacing, chip seal, removal and replacement of box culvert, water systems, sidewalk, curb and gutter, signing and fencing on 2.16 miles of Robertson Road.
Project runs from North Platte River bridge north to the intersection of Poison Spider Road. Roadwork begins near Chief Washakie Road and runs north.
UPDATE: Crews will begin by removing existing snow fencing before work begins on the road surface. Milling (stripping) of the existing surface will also begin. This initial .5 mile phase will last five weeks. During that time, resident access will be from the south (WYO 220).
As work progresses south to Green Valley Village, residents will see the access to their properties shift (to Poison Spider Road). From the end of the pavement project at Green Valley Village, crews will construct a multiuse path/sidewalk south to Trevett Lane along the west side of the road.
The new roadway will feature two traveling lanes and a center turn lane. Additionally, the new road will have 4-foot shoulders with curb and gutter (from Valley Village to Poison Spider Road).
Contractor: Andreen Hunt, Casper
Project Completion Date: July 31, 2015
Wheatland - I-25 Bridges
Project is for the widening of two I-25 bridges over the Laramie River approximately 3 miles north of Wheatland. Currently, each bridge is about 10 feet narrower than standard.
Contractor: S&S Builders, Gillette
Project Completion Date: Oct. 15, 2015
Wheatland - WYO 310 and WYO 311 Reclamation
Project is for full-depth reclamation, pavement and replacement of timber bridge on WYO 310 and WYO 311 (Hightower Road) west of Wheatland.
Contractor: Knife River, Cheyenne
Project Completion Date: Oct. 31, 2014