Salvage Vehicles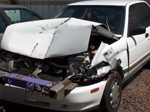 Salvage vehicle means any motor vehicle which has been wrecked, destroyed or damaged to the extent that it is declared a total loss by the insurance company or, in the event an insurance company is not involved in the settlement of the claim, sustains damage in an amount exceeding 75 percent of its actual retail cash value.
The owner or insurance company for the vehicle must apply to the county clerk's office for a certificate of title branded "Salvage."
This requirement does NOT apply to vehicles that are currently titled in Wyoming with more than eight years of service, commercial vehicles, and any type of trailer.
Motor vehicles that come into Wyoming with an out-of-state salvage title must obtain a Wyoming salvage title and apply to WYDOT for a Rebuilt Salvage Decal prior to registering the vehicle.
IMPORTANT PLEASE NOTE: WYOMING WILL BRAND A VEHICLE BASED ON INFORMATION FOUND IN THE NATIONAL MOTOR VEHICLE TITLING INFORMATION SYSTEM (NMVTIS) EVEN IF THE CURRENT TITLE APPEARS TO HAVE NO BRANDS!
T0 OBTAIN A REBUILT SALVAGE DECAL
1.
The owner must first go to the county clerk's office and apply for a Wyoming Salvage Title (with restricted registration) in owner's name.
·
The clerk's office will then give the owner an application for Rebuilt Salvage Vehicle Decal.
·
Name of Applicant must match the name on the Wyoming Salvage title.
·
The Name and address of Person or Business that repaired or rebuilt the vehicle MUST be filled out completely, along with damages prior to being repaired.
2.
Send in a copy of the Wyoming Salvage Title, a photo of the repaired vehicle and the Application for Rebuilt Salvage Vehicle Decal filled out completely to the address at the bottom of the application. There is no fee for a Rebuilt Salvage Vehicle Decal.
3.
Applying the Rebuilt Salvage Decal. On an automobile the owner shall apply the decal to the driver's side door jamb. On a motorcycle, the owner shall apply the decal opposite the vehicle identification number on the fork crown in a manner that does not obscure the vehicle identification number.
·
Law enforcement must inspect the vehicle and sign off on the Certification of Correct VIN Number form which is sent with the Rebuilt Salvage Decal.
·
All paperwork is then taken to your county clerk's office for titling and plates.
When selling a vehicle with a title that contains a brand, the seller is required to disclose the brand to the buyer on a Branded Title Disclosure Statement.
WYDOT Motor Vehicle Services
5300 Bishop Boulevard
Cheyenne WY 82009
(307)777-4883
Salvage/Rebuilt Applicable Forms