Transportation of New Vehicles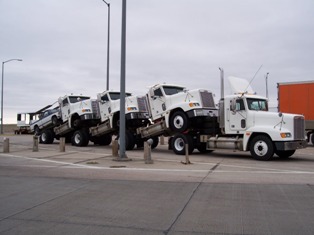 In accordance with W.S. 31-18-201(u), any person legally engaged in the transportation of new vehicles over the highways of this state from manufacturing or assembly points to agents of manufacturers or dealers in this state or in other states, territories or foreign countries or provinces by the drive away or tow away methods, where the vehicle being driven, towed on its own wheels, or transported by the saddlemount, tow bar or full-mount methods, or a lawful combination of these methods, for the purpose of sale, barter or exchange, or for delivery after sale, may annually apply to WYDOT for a permit and a transporter number plate to use the highways of this state and pay a fee of $300 for the permit and $30 for each transporter number plate.
The transporter plate shall be displayed upon the front of the driven vehicle combination or upon the rear of a motor vehicle driven singly or upon the rear of a vehicle being towed.
The permit shall be valid for the current year ending Dec. 31.
Vehicles may be transported as provided under this subsection while displaying the transporter plate.
Transporters who fail to display the plate will be required to obtain a single trip permit from a WYDOT Port-of-Entry.
Contact:
Shannon DeGrazio
WYDOT-Motor Vehicle Services
5300 Bishop Boulevard
Cheyenne, WY 82009
Transporter Company Application