Rental Vehicle Agency Compliance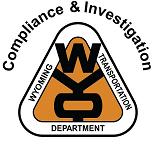 Educational compliance reviews for new Wyoming rental vehicle agencies, in response to complaints, and in the course of
criminal investigations.
Regulations that Apply to Rental Vehicle Agencies
A Rental Vehicle Agency Certificate is required for any person who rents or offers a vehicle for rental without a driver.

Rental vehicle agencies must collect a 4% surcharge on the total dollar amount of each rental contract, before sales tax is figured.

Wyoming rental vehicle agencies may register their rental vehicle fleet in any jurisdiction, as long as the 4% surcharge is collected on all rental vehicle contracts.

Rental vehicle agencies may use the 4% surcharge monies collected as reimbursement for Wyoming Registration of their rental fleet.

Any surcharge collected in excess of Wyoming registration fees for the rental fleet must be remitted to WYDOT.

Rental vehicle agencies are required to maintain a record of all rental contracts for a period of three years, and make those records available to WYDOT upon request.
Do you need to file a formal complaint against a rental vehicle agency?
What information is required to be available during a Compliance Review?