Jackson South Snake River north section underway
Date: 05/18/2017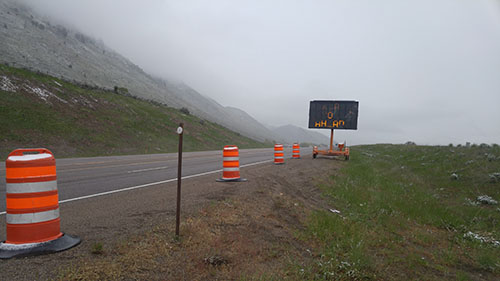 The Jackson South Project is underway as crews from Wadsworth Brothers Construction Co. and the Wyoming Department of Transportation met this week to discuss work schedules and mobilization of equipment. The community will be seeing active work coming this Monday.

"People are going to see a lot of work going on this summer. They have a very aggressive schedule," Resident Engineer Bob Hammond said.

Residents and travelers will see restriping and narrower lanes next week, so crews can begin working on moving dirt. In some areas, turning lanes will be temporarily removed, but crews will maintain two-way traffic.

Crews will keep two lanes of traffic open during commuter hours and do their best to minimize impacts to motorists during other times.

Updates and other information on the construction will be available on WYDOT's Facebook page at https://www.facebook.com/wydotjacksonsouth/.

WYDOT is advising travelers to be prepared for potential delays. Motorists should allow for ample time to reach their destinations and should obey all traffic control devices and signs.
WYDOT would like to remind drivers to slow down when driving in construction zones and be alert and cautious of roadside workers. For more information on closures and weather conditions, please visit http://www.wyoroad.info.
"Safety is a critical component of the work we do—both for the public and for our employees and contract crews," Hammond said. "Drivers should be attentive and aware of their surroundings."
The project, which will be constructed to improve the US 26/89/189/191 corridor south of Jackson, will include added lanes, bridge replacements and improvements, wildlife connectivity underpasses and fencing, as well as a pedestrian/bicyclist pathway.

The project was awarded on April 20 to Wadsworth Brothers Construction Co. for about $33 million. This will be a two-year construction project. The work is required to be completed by June 30, 2019. Wadsworth Brothers' schedule shows early completion in the fall of 2018.

The purpose of this project is to resolve existing roadway deficiencies while safely and efficiently accommodating current and future traffic volumes and improving system linkage.

The Jackson South Project is broken into two parts – the North Section – from mileposts 145-149, which is near the WYDOT shop to South Park Look Road by Melody Ranch. Work will include new pavement, widening, added lanes, turnouts, pathways and landscaping, bridge work, as well as various other improvements. This is the project that is currently underway.

The second half of the Jackson South project – the South Section – mileposts 141 to 145, is near the Hoback Junction to the WYDOT shop. Work will include new pavement, widening, added lanes, turnouts, pathways and landscaping, bridge work, as well as various other improvements as well.

Information about the development of the project, including the public involvement and planning process is available at: http://www.dot.state.wy.us/jacksonsouth. Information on the pathway, wildlife crossings and fencing, approaches, retaining walls, bridges and other key components of the job will also be available on the website.

WYDOT is committed to keeping the public informed about the agency's many activities and promoting understanding of why and how department personnel accomplish their responsibilities.