Slide repair scheduled on Chief Joseph Scenic Highway slide
Date: 04/18/2017
Categories :
District News Box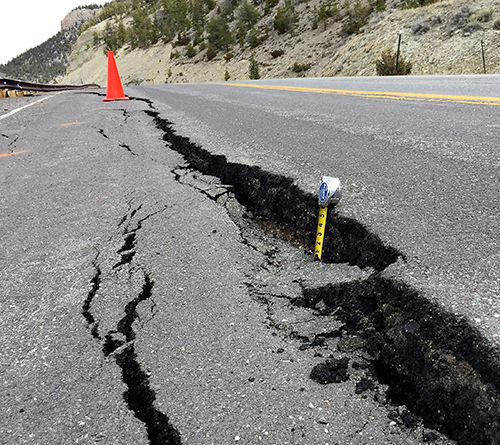 Wyoming Department of Transportation personnel in Cody will attempt to patch a moisture-related slide today near Dead Indian Creek on Chief Joseph Scenic Highway (WYO 296).
"We are going to place asphalt roto-mill material in the cracks and bring the surface up to level with the rest of the road today (April 18)," said WYDOT area maintenance supervisor Robin Nichols of Basin. "The slide moved slightly over the weekend, but not significantly."
The Dead Indian Creek slide is in the roadway at milepost 26.1, about 20 miles west of WYO 296's intersection with WYO 120. The slide has caused the roadway to drop nearly six inches since March.
During repairs, traffic delays of up to 15 minutes are expected.
With precipitation in the weather forecast for the remainder of this week, WYDOT personnel are attempting to finish this temporary slide maintenance prior to the onset of inclement weather. "This is a temporary fix at best and is only being done to keep the roadway as safe as possible," Nichols said.
WYDOT geologists are scheduled to assess the extent of the Dead Indian Creek slide in early May.

For information about this news release, contact WYDOT public relations specialist Cody Beers at (307) 431-1803.