WYDOT continues work on Elk Street, Dewar Drive in Rock Springs
Date: 06/12/2017
Categories :
District News Box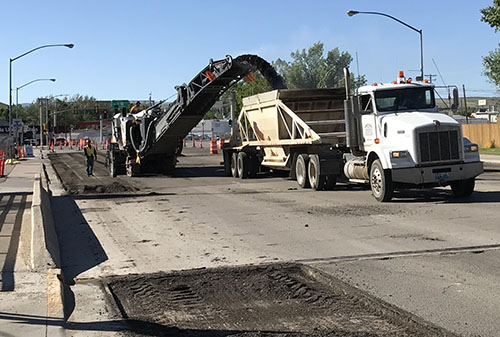 Milling is underway as the Wyoming Department of Transportation continues with work on Elk Street and Dewar Drive.
Crews are working as fast as they can to mill up pavements and minimize delays to accesses and local businesses.
This week contract crews will begin milling operations on half of the roadway width on Elk Street and begin milling operations on Dewar Drive.
WYDOT and contract crews will maintain access to local businesses during construction. However, during milling operations this week, businesses will be directly impacted as the operations go by their address. These temporary closures will be limited and of short duration. Businesses will be contacted prior to paving operations.
The work on Elk Street will begin just south of the I-80 intersection and will continue to the Elk Street/Center Street intersection.
Work on Dewar Drive will begin just east of Gateway Boulevard and continue to the east side of the Belt Loop (in front of the Ford dealership).
WYDOT strongly recommends that trailer traffic avoid the area if possible and local drivers and commuters should find alternative routes through work areas and adjust their schedules accordingly. WYDOT requests that local traffic drive cautiously, be alert in these areas and plan accordingly.
For more information on road construction, closures and weather conditions, please visit http://www.wyoroad.info.
This project will use a full depth reclamation process in which crews will mill off about 4 inches of asphalt, and then treat the remaining asphalt and base with oil emulsion before placing about 4 inches of new pavement on top. Some isolated ADA improvements and bridge improvements will also be included in the job. Crews hope to have paving completed by late August, early September.
WYDOT awarded the job to Kilgore Companies, doing business as Lewis & Lewis Inc., out of Rock Springs for $4.5 million. The work will include grading, milling and full depth reclamation paving, as well as some bridge work repair and other miscellaneous work on about 2 miles of Elk Street and Dewar Drive. The completion date is set for Oct. 31.