WYDOT crews continue to battle spring snowstorm
Date: 05/19/2017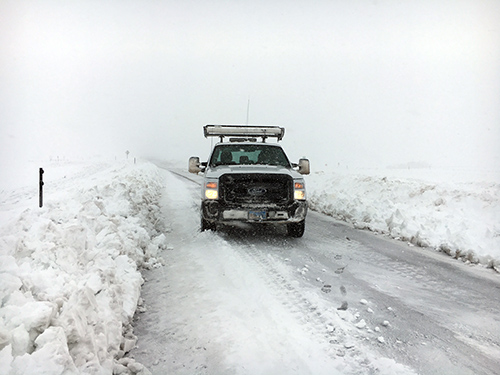 Several sections of Interstate 80 west of Cheyenne remain closed Friday as a result of a spring snowstorm.
The sections closed because of winter conditions are between Cheyenne and Patrick Draw, just west of Wamsutter.
The eastbound lanes of I-80 between Rock Springs and Evanston remain closed due to local authority request, which means that cities have requested the sections close to ensure there are enough services to accommodate the travelers in their communities. The westbound lanes remain open.
I-80 between Laramie and Cheyenne is expected to remain closed for most of the day today, with WYDOT crews bringing in heavy equipment to try to reopen the road. Crews from southwest Wyoming are also assisting crews in southeast Wyoming with snow removal efforts.
A potentially record-breaking spring snowstorm led to the closure, which began Thursday.
Ralph Tarango, the district maintenance engineer for District 1, said around 3 to 4 feet of snow is on I-80 in places in southeast Wyoming, and crews are bringing a rotary plow to help clear the road.
A rotary plow is a plow capable of removing large amounts of snow off the roadway and resembles a large snowblower. They are usually used for clearing seasonally closed roads like the Snowy Range Road, for example.
Besides I-80, sections of US 287 between Laramie and Rawlins, WYO 34 near Laramie, WYO 210 between Cheyenne and Laramie, WYO 789 between Rawlins and Thermopolis and US 191 between Rock Springs and the Utah state line remain closed because of wintry conditions. US 189 eastbound between Evanston and I-80 exit 18 remains closed due to local authority request.
Motorists can check the latest road conditions and closures by visiting WYDOT's 511 Travel Information website or by calling 5-1-1.