WYDOT's dynamic message and variable speed limit signs help motorists stay informed
Date: 01/11/2017
Categories :
District News Box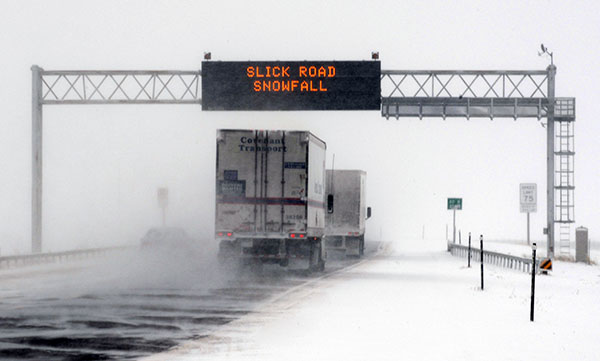 Motorists have more information about road conditions when traveling thanks to the Wyoming Department of Transportation's dynamic message and variable speed limit signs.
The signs are situated throughout the state in key locations, and are designed to alert motorists about road conditions or when speed limits are reduced due to weather conditions and other road incidents.
"We use dynamic message signs to get information to the public to help them make better decisions downstream," said Vince Garcia, GIS/ITS program manager. "We're committed to giving the public the best information possible so they can make well informed decisions about traveling."
The messages on the signs vary depending on the time of year and can be about weather or safety. WYDOT officials also recently started putting weather advisories on the dynamic message signs so motorists know about an impending storm. That way, if a storm is supposed to impact an area on a certain day and motorists see that, they could alert their plans.
The public also seems to like the variable message signs, which help law enforcement reduce crashes.
"The independent research shows that we're saving about 35 crashes on Interstate 80 alone per year, and where each crash can result in a closure, an average closure is about eight hours on I-80 so it's significant," Garcia said.
To learn more about WYDOT's dynamic message and variable message signs, visit the 511 Travel Information website.