U.S. Forest Service - WYDOT Liaison Program
The Wyoming Department of Transportation (WYDOT), Federal Highway Administration (FHWA), and the U.S.D.A. - Forest Service (USFS) recognize that a safe and efficient transportation system is integral to effective land management. WYDOT's transportation system crosses through eight different National Forests and one National Grassland within Wyoming. To improve mutual effectiveness, enhance context sensitivity and streamline the delivery of transportation projects, WYDOT and the USFS have taken several steps. The initial step was to develop a Statewide Memorandum of Understanding for transportation facilities on National Forest System roads (renewed every 5 years). The Statewide MOU as it is known outlines the roles and responsibilities of the WYDOT, the FHWA and the USFS during development of transportation projects. It contains procedural guidance specific to project Planning & Design, Environmental Processing, Federal Land Appropriation, Construction and Operation & Maintenance of transportation facilities on National Forest System (NFS) lands. Direction is also included concerning the Use and Disposition of NFS Resources, Signing, Third Party Occupancy and Access Control.
The second step was to create the USFS-WYDOT Liaison Program. The Liaison Program consists of one full-time, dedicated Forest Service liaison position supported with WYDOT and FHWA transportation funding. The expectations and functions of the liaison are described in the Statewide Liaison Memorandum of Understanding between the WYDOT and the USFS (renewed every 5years). The Statewide Liaison position is tasked with programmatic issues, planning, coordination, and specific transportation projects across Wyoming. The Liaison position works to enhance coordination, communication and to strengthen relationships between the USFS and the WYDOT. The liaison seeks to streamline project planning & development and to ensure projects are balanced to minimize environmental impacts on National Forest and Grassland lands and resources.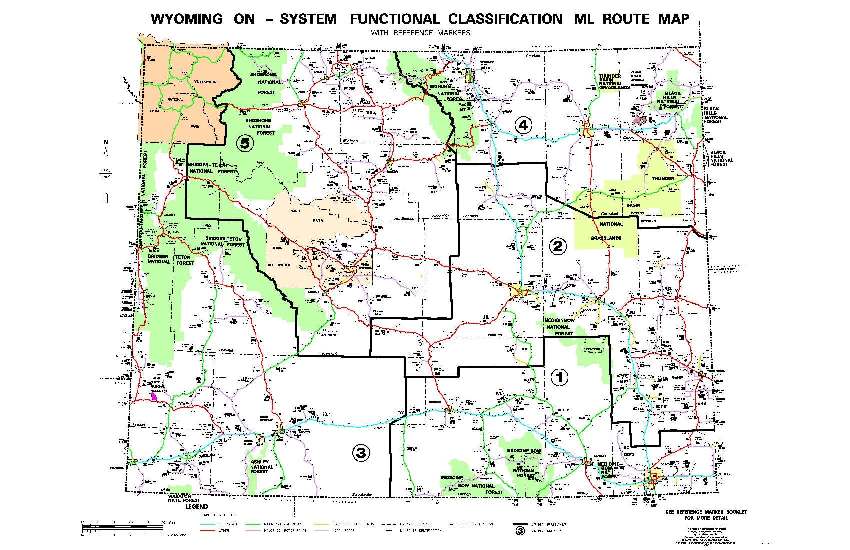 WYDOT/USFS/FHWA Liaison


FHWA Forest Lands Highway Program
The Federal Lands Highway Program provides funding and technical resources for public roads that service the needs of federal and Native American lands. The Central Federal Lands Highway Division (CFLHD) operates as part of the Federal Lands Highway Program serving the central states including Wyoming. CFLHD actively administers and cooperates with Federal Land management agencies to plan, design, construct, and rehabilitate highways and bridges on federally owned lands, including forest highways, public lands highways, park roads, parkways, refuge roads, and Native American reservation roads.
The Wyoming Forest Highway Network contains 18 routes amounting to 609.79 miles (981.15km) 1 . WYDOT, CFLHD and the USFS assign available funds to various projects within the Wyoming Forest Highway Network. The proposed projects are maintained on the Wyoming State Transportation Improvement Program (STIP). The CFLHD keeps an inventory and route files available to the public as well as projects that are in development and under construction in Wyoming.